YouTube Go for slow internet speed and better offline experience now available in India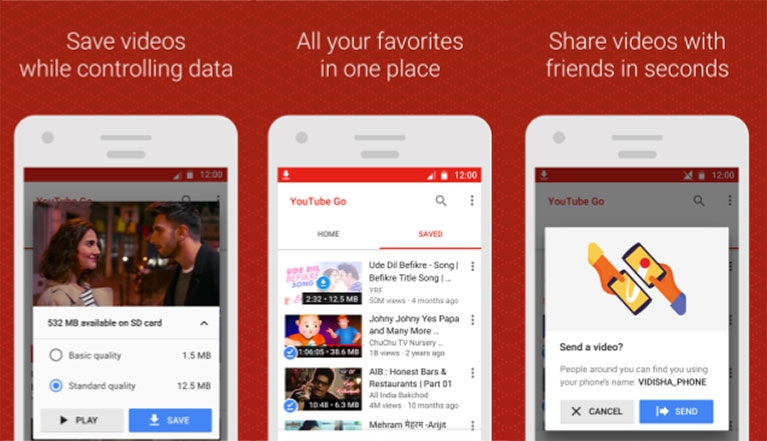 A beta version of the YouTube Go app with lots of features has been released on the Google Play Store in India. The new app will enable users to watch videos even in areas with poor internet signal. Users can now easily download and even share the videos with other users. The YouTube Go beta is available for download through Google Play Store.
The YouTube Go app was launched in September last year. The app allowed users to download and save videos that could be watched even offline. Along with this, users could also monitor their data usage. The new beta version of the app is essentially a step further to tackle poor connectivity and reduce the hassle of loading and buffering every now and then.
Recently, during the YouTube Fan Fest in Mumbai, it was revealed that around 180 million people in India watch YouTube on their smartphones. As per reports, the demand for online video viewing in India has increased due to availability of cheap and competitive data plans especially since Reliance Jio entered into the market.
Google has been constantly testing and refining India's YouTube Go app to improve the user experience and make it more convenient. According to YouTube, it aims to make a product for the Indian users from the ground level instead of releasing a slimmed-down version of their primary app.
John Harding, Vice President of Engineering at YouTube said:
"As we talked to people in the market, they didn't want something that felt like a stripped down version of YouTube – they wanted the full experience."
In the new app, the users can discover videos that are trending in their region with minimised use of data. Also, users can preview videos before watching to make sure it is what they want.
Google, on the entire scenario commented:
"Today, after months of expanded testing and refinement, we are happy to announce that we are making the beta version of YouTube Go available for download on the Google Play Store in India. The app is designed to be offline first and improve the experience of watching videos on a slower network; it gives you more control over data usage, by providing choice and transparency into the amount of data spent on streaming or saving videos."