WindowsAndroid | now run Android 4.0 on your PC
WindowsAndroid – no, its not a mismatch of words but, its exactly what it says. Andorid 4.0 (ICS) on your windows PC. This tool lets you run Android Ice Cream Sandwich as an application on Windows 8, Windows 7 and Windows Vista. And it not only runs but executes all your Android phone apps, browser, settings and all the other features of Android operating system.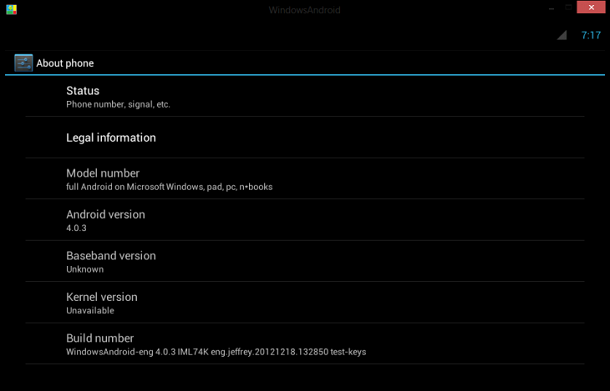 WindowsAndroid is not fully developed though, it is not a bad thing to try. It is being developed by SocketeQ. And as mentioned by thenextweb, they are developing WindowsAndroid from 2010.
See the official list of features provided by WindowsAndroid:
Current ported Android version is 4.0.3r1, new version is being developed.
Can run on Windows Vista, Windows 7 and Windows 8.
Integrated with Windows' applications, such as Flash, Windows Media Player, etc.
Supports any UI resolution, such as 1920×1080.
Supports windowing mode or full-screen mode, window scaling in windowing mode, and switching between windowing mode and full screen mode.
Supports IO devices such as mouse, keyboard, remote control.
Supports Ethernet, pppoe.
So, have fun by enjoying a never before experience of Android running on your windows personal computer.
Image courtesy: thenextweb