Which Smartphone Companies are Planning to "Make in India"?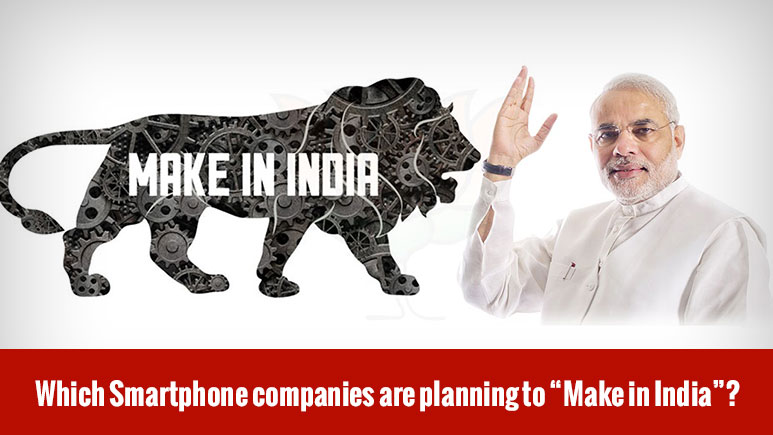 The 'Make in India' campaign which was initiated by India's Prime Minister Mr. Narendra Modi has got an overwhelming response over the period. The 'Make in India' program has now made it very easy to manufacture the products in India with all the possible access to the companies, as compared to before. As a result, many tech companies who used to manufacture their products outside the country are now shifting their base to India. In this article, we have listed some of the major tech companies planning to "Make in India".
Lava:
Lava International, an Indian smartphone manufacturer was the first smartphone company to announce Rs. 500 crores investment to set up a smartphone manufacturing plant in India as a part of 'Make in India' campaign. In fact, Xolo which is subsidiary company of Lava International has already launched a 'Make in India' smartphone named Xolo Black.
Samsung:
A month later Samsung also decided to manufacture Samsung Z1 along with some upcoming smartphones in its Noida, Delhi plant.
Micromax:
Micromax will invest Rs. 80 crore to set up a mobile phone manufacturing facility in Rangareddy district of Telangana. The Telangana government has already issued approval for the facility to Micromax. The unit is expected to provide employment to 1,250 people.
Asus:
The Taiwanese firm, Asus is also now following its global competitors and decided to manufacture its products in India. Commenting on the investment Jonney Shih, Chairman Asus, said "India offers a huge opportunity, smartphone penetration is just about 10 percent. We are focusing on getting the entire supply chain right here and not just assembly. Once the supply chain is there, manufacturing will become easier here."
Xiaomi:
Next in-line is Xiaomi, the "Apple of China" which has even launched its first "Made in India" smartphone Redmi 2 Prime recently. Xiaomi has partnered with Foxconn and they started assembling phones at the Sri City, Andhra Pradesh plant way back in June.
Foxconn:
Foxconn, a contract smartphone manufacturer recently announced a $5 billion mega investment in Maharashtra, India where it will have a manufacturing facility, as well as an R&D (research and development) unit. The facility would be spread over 1,500 acres. There have been many reports which say that the Maharashtra unit will also manufacture the Apple iPhones so, your next iPhone could be even made in Maharashtra! 
Foxconn, the company who manufactures smartphones for giants like Apple, Motorola, Sony, BlackBerry and many more has plans outside of Maharashtra also. Foxconn's Chairman Terry Gou had earlier said the company is aiming to develop 10-12 facilities in India, including factories and data centres, by 2020.
Huawei:
Huawei has already opened a new Research and Development (R&D) campus in Bangalore with an investment of $ 170 million.
Spice:
Earlier this year, the Spice Group said it would start a mobile phone manufacturing unit in Uttar Pradesh with an investment of Rs 500 crores.
Celkon:
Celkon is also investing Rs. 200 crore in a phone production facility at Medchal in Hyderabad, Telangana.
Hitachi:
Following the campaign, Hitachi also announced that it will set-up an auto-component plant Chennai in 2016.
---
With all these major smartphone companies manufacturing their products in India, we can surely expect our next smartphone to be a 'Made in India'.