WhatsApp get's all new Material Design; yet to hit Play Store – Download the APK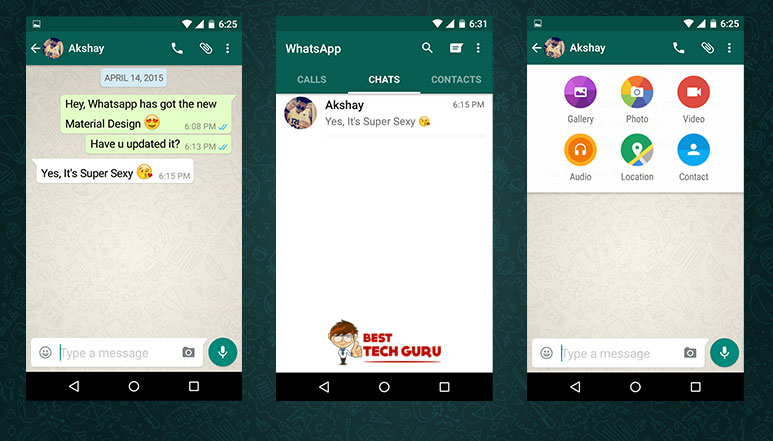 For all the lovers of WhatsApp, there is a good news – WhatsApp has updated its UI with the all new Material Design and the app now looks much more cool.
Okay, but before you rush to the Play Store to download it, please note that the update is not available on the Play Store yet.
The new update has the version number 2.12.38  and it  is available only on WhatsApp's official website, you have to first download the APK from there and then it can be installed on your phone.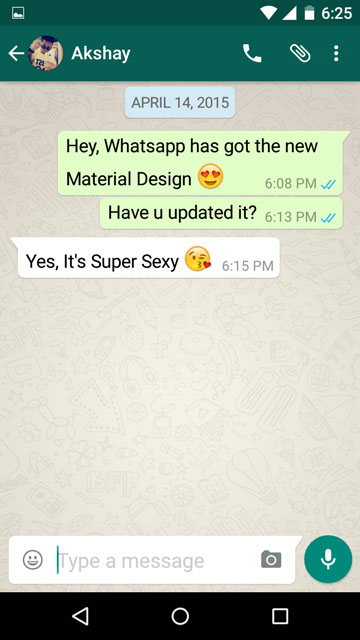 The new update brings the much awaited material design into WhatsApp. Now, the title bar has a dark green colour, the chat window is lot more clean and stylish. The attachment pop out is more colourful and good-looking than ever 🙂
The media selection screen which takes you to the gallery is also improved and is more user-friendly now.
The animation for voice message recording is also improved and it's quite a fun to play with it now.
The profile information section is also improved a lot, the profile pictures thumbnail is now bigger.
The icons are now in-line with Google's material design approach.
Overall, although the app doesn't include any new features, this update brings lots of visual appearance changes which makes the app even better and more fun to use.
It may hit the Play Store soon but till then, you can download it from WhatsApp's official website, remember, it;s completely safe to download the app this way.