WhatsApp for iOS gets updated with new Album feature, Photo Filters and Reply shortcut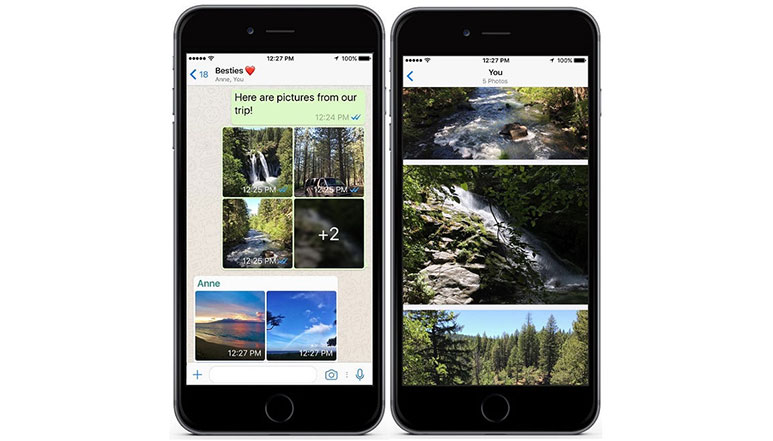 WhatsApp has updated its iOS app with a few new and interesting features. The features come bundled in the latest version 2.17.30 of WhatsApp. The newbies include, Album feature, new photo filters and the reply shortcut feature. Few of these features were already running in the beta version of WhatsApp and have finally been rolled out for public now.
Starting with the 'Album' feature, it basically bundles up all the images by a sender and displays them in the form of an album similar to that of Facebook. If a sender posts 5 or more than five images at a time, four images will be displayed in a group and the fourth image out of them will contain an overlay with the number of remaining images. Once you tap on the Album, it will show all the images present inside it. The new album feature is surely an interesting one and will reduce the hassle of scrolling over every now and then to find an image from a particular user.
After including the Snapchat like story feature, which lets you keep images as statuses for 24 hours, WhatsApp is finally entering the filter game. Users will now be able to add filters to their photos, videos, and GIFs right within the WhatsApp camera. Users will have to swipe up to select a filter after taking or selecting a photo or video that is already on your phone. There are a total of five filters to choose from, including pop, black and white, cool, chrome and film.
Last is the reply shortcut or the Swipe-to-reply feature. The users will simply have to swipe right in any message to quickly reply to it. Now it becomes more easy for the user to respond to a particular message as compared to the previous version where the users were required to tap the message and select the reply option.
As mentioned earlier, the new features are only rolled out for WhatsApp in iOS and there is no clue as of when will they be available in Android. Considering the previous track record, we can expect the new features to soon be available on WhatsApp for Android.
We'll keep you updated with more, stay tuned!