WhatsApp adds new Bold, Italic and Strikethrough formatting features
WhatsApp has now introduced a new feature, that will let users write text in bold, italics and strikethrough format. Users who have already  downloaded WhatsApp, will automatically get version 2.12.17 for iOS and 2.12.535 for Android, update on their smartphone.
Here are the simple ways to format the text: For Bold, add asterisks to either side of your text, e.g. *bold*, while for italics, add underscores either side, e.g. _italics_, and for strikethrough, add tildes either side, e.g. ~tilde~. Users can also combine the new formats such as _*bolditalics*_.  And to view these formatted texts, other person also needs the updated version.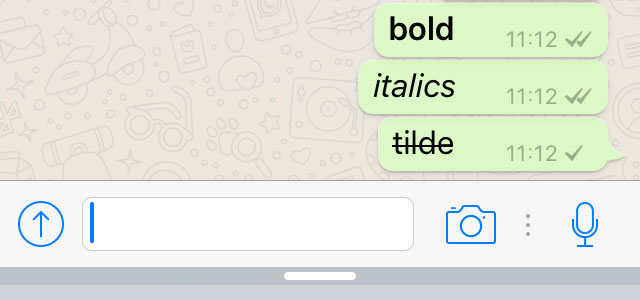 WhatsApp for iOS
recently
got the ability to share PDF documents from Google Drive and Microsoft OneDrive accounts. The app also added the ability to share photos, and pinch to zoom in on videos.