Sony Xperia M – Specifications, Price & Review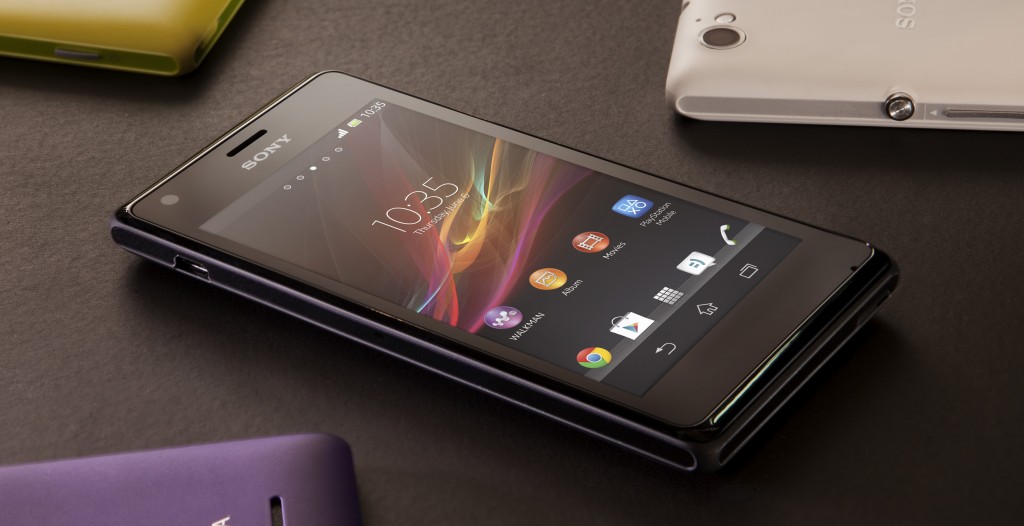 ---
Key Features: 4-inch screen, 1 GHz Dual Core Snapdragon S4 Processor, 1 GB RAM, Android 4.3, 5-megapixel rear camera, Dual-Sim.
---
Sony smartphones are always known for beautiful design and excellent build quality. The moment you see them, you fall in love with the excellent design of the Sony Phones. And same is the case with the Sony Xperia M. Let's take a look at it.
The Sony Xperia M runs on the Dual-core 1 GHz Qualcomm Snapdragon S4 Plus MSM8227 Processor which has the performance on the lower side. It is supported by 1 GB RAM which is decent. But overall, it has average performance and it may lag.
The design of the Sony Xperia M is beautiful. It has round edges and a very solid build quality. It has 4 inches screen with 480 x 854 pixels resolution and a pixel density of 245 ppi. Also, at the bottom of the phone, at the empty space below the display, the phone has a nice notification light which looks very good and adds to the charm of the phone.
The Sony Xperia M has a 5 MP camera which can click good images and it also has a 0.3 MP front camera. It also comes with a LED Flash and the camera has the feature of Autofocus. Also, it allows you to record videos at 720p.
The Sony Xperia M has got the Android 4.3 update and the User Interface of the phone is very beautiful and simple, better than the Samsung's TouchWiz UI. The phone is available in both Single Sim and Dual Sim Models.
For storage, it has 4 GB internal memory which may be utilized to install apps and the storage can be expanded upto 32 Gigabytes. The phone has a Li-Ion 1750 mAh battery which gives okay performance.
Overall, the Sony Xperia M is a beautiful phone but it's not a great performer. It will be a very good choice if you have low use of phone like calling, texting, whatsapp, internet browsing and music. But, if you want a phone for gaming and multitasking and installing lots of apps, you should get some other smartphone.
---
Specifications:
| PRICE | Rs. [wpws url="http://www.flipkart.com/sony-xperia-m/p/itmdv6f7wm6xfhhv?affid=besttechgu" xpath="//*%5B@itemprop='price'%5D/@content" xpathdecode="1" cache="60" timeout="5"] @ Rs. [wpws url="http://www.snapdeal.com/product/sony-xperia-m-dual-white/280881649?utm_source=aff_prog&utm_campaign=afts&offer_id=16&aff_id=10737" selector="#selling-price-id" cache="60" timeout="5"] @ Rs.[wpws url="http://www.amazon.in/gp/product/B00EJBA7HC/ref=as_li_tl?ie=UTF8&camp=3626&creative=24822&creativeASIN=B00EJBA7HC&linkCode=as2&tag=betegu-21" selector="#priceblock_ourprice" cache="60" timeout="5"] @ |
| --- | --- |
| OS | Android OS, v4.1 (Jelly Bean)/ v4.2.2 - C2004/C2005 models, upgradable to v4.3 (Jelly Bean) |
| CPU | Dual-core 1 GHz Krait, Qualcomm Snapdragon S4 Plus MSM8227 Processor |
| RAM | 1 GB RAM |
| SCREEN | 4.0 inches, TFT capacitive touchscreen |
| DISPLAY | 480 x 854 pixels, 245 ppi pixel density |
| SIM | Optional Dual SIM (Micro-SIM) |
| CAMERA | 5 MP Primary Camera, 0.3 MP Front Camera |
| MEMORY | Internal Storage 4 GB, microsd expandable upto 32 GB |
| BATTERY | Li-Ion 1750 mAh battery |
| OTHERS | 3G, NFC, Bluetooth, WiFi, GPS |
---
Buy Sony Xperia M Now:
Sony Xperia M
Store
Price
Buy
Rs. [wpws url="http://www.flipkart.com/sony-xperia-m/p/itmdv6f7wm6xfhhv?affid=besttechgu" xpath="//*%5B@itemprop='price'%5D/@content" xpathdecode="1" cache="60" timeout="5"]
Buy Now
Rs. [wpws url="http://www.snapdeal.com/product/sony-xperia-m-dual-white/280881649?utm_source=aff_prog&utm_campaign=afts&offer_id=16&aff_id=10737" selector="#selling-price-id" cache="60" timeout="5"]
Buy Now
Rs.[wpws url="http://www.amazon.in/gp/product/B00EJBA7HC/ref=as_li_tl?ie=UTF8&camp=3626&creative=24822&creativeASIN=B00EJBA7HC&linkCode=as2&tag=betegu-21" selector="td .priceLarge:eq(0)" cache="60" timeout="5"]
Buy Now