Reliance Jio Chat launched: It's a full featured instant messaging, voice & video calling app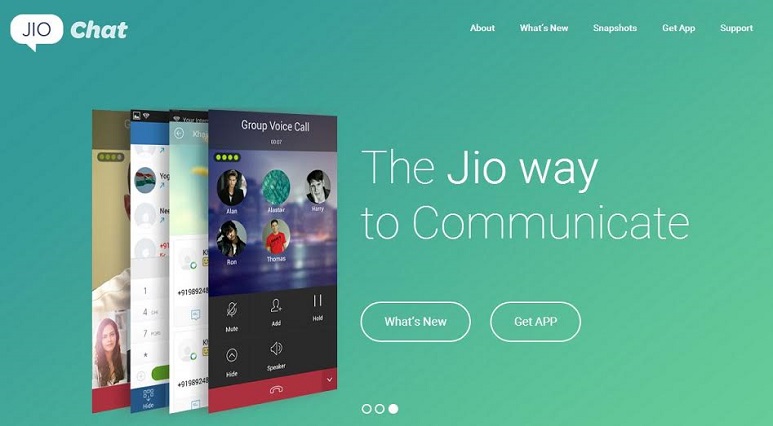 Reliance Jio Infocomm launched a new and well featured instant messaging app named Jio Chat for Android as well as iOS users.
There are various options of instant messaging apps out in the market such as Whatsapp, Line, Wechat, hike and many more. So, Jio Chat must offer something nobler to compete against them.
Jio Chat allows Voice, Video calling and conferencing, whether one-on-one or group. With the installation of app, Jio Chat automatically synchronizes contacts and will send free SMS invites to your friends, app has a nice layout and feels interactive while using and at the installation has blue background obviously you can personalize as you wish.
It has a good feature that you are allowed to message about 100 of your Jio Chat friends at a time; add stickers, emotions, doodles, pictures, videos, and audio notes.
The app is currently available on Play Store and will take 20 MB space of your memory and at the time of writing this article over 1000 android users already installed Jio Chat. It is also available on the Apple App Store.
The app also has a feature similar to BBM, you can follow brands and celebrity with channels. Jio Chat also offers latest news, updates and special promotions through Jio Chat Channels.
The app may get a good response as humans are known for their curiosity; everyone will try to know what's new with it.
At, conclusion we can say that it has all the features to stand against the other available instant messaging apps.
But there is a doubt concerning the continuation of video and audio calling facility of all the instant messaging apps, the increased amount of spectrum rates and the loss of telecomm companies from the chat apps creates suspects that how TRAI regulates the under contention (TTS)s.
Upcoming months will decide the future of instant messaging apps, we hope for the best.