Hike rolls out its biggest update ever, comes with new themes & great new features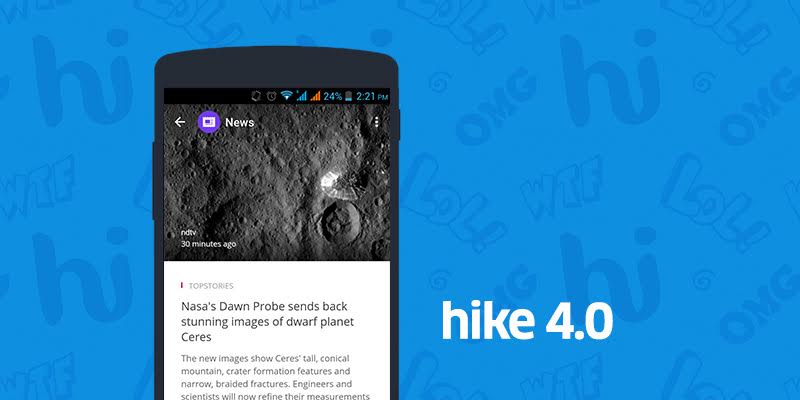 Today, Hike messenger has launched Hike 4.0, its biggest update till now in the company's history. The latest release which is 5X faster than its predecessor versions will be available for Android users from Google Play Store today and iPhone users will receive it from the next week.
The new update is designed for the next billion Indian consumers, who are experiencing internet for the first time and has been optimized for low-end phones and particularly for extremely poor network conditions.
This update includes 10 new features such as 'Sticker Suggestions', that recommends stickers as you type your message, allowing you to easily express yourself in a diverse catalogue of over 5000 stickers on hike. The new updates also allows you to add 500 members in single Group Chat and just like Whatsapp users can now have multiple admin for single group. Users can also transfer any kind of file whether it is Documents, PDF, Zip & all other kinds of files up to a 100 MB.
Hike 4.0 is also launched with photo filters and doodles to allow users to have fun and spice up their photos. As a part of the new update Hike has also launched 'News' on hike, a service that allows users on the platform to get quick bite sized news updates in just under a 100 characters. Within 24 hours of the launch of 'News', hike already has over a million people actively using the service.
Hike messenger, also claimed that its users exchange over 20 billion messages on a monthly basis, which is double than the company's previous announcement of 10 billion monthly messaging volumes in August last year.
Commenting on the update, Kavin Bharti Mittal, CEO and founder of Hike said: "We're not stopping here. We've got a lot more coming. Expect us to release one big new feature on top of this every month until the end of the year".