Xiaomi Mi Mix 2S live images leaked ahead of official launch on 27th March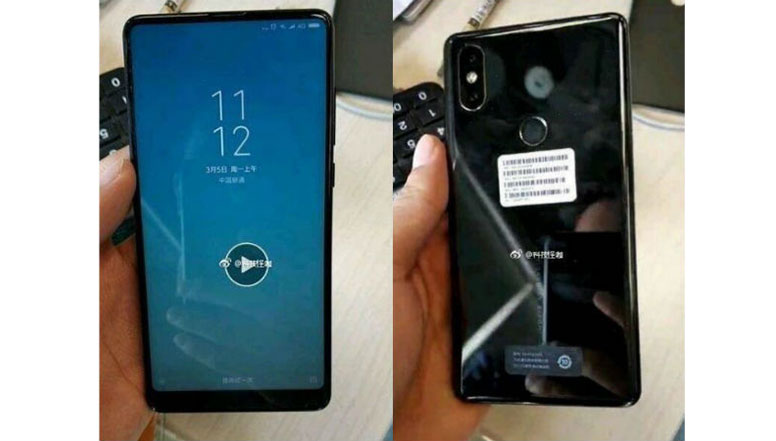 Xiaomi has is planning to launch at least 6-7 phones in the current year. We have already seen the Note 5 and Note 5 Pro being launched, next in line, is the Redmi 5 scheduled for 14th March and then the Mi Mix 2S, which is scheduled to be launched on 27th of March. According to the reports coming in, new leaked images of the Mi Mix 2S have surfaced online. The leaked images have revealed certain key details about the phone, which might interest you as a smartphone user.
The highlighting factor about the latest leaks has been the overall look of the Mi Mix 2S, with thin bezels on the front side of the smartphone. The upper bezel is thinner when compared to the bottom. Though it was not clear from the images, from the looks of it, the thicker bezel at the bottom will feature the front camera sensor like the Mi Mix 2. From the images, it can be iterated with a certain degree of surety that the smartphone, like its predecessor, comes with a ceramic back protected by glass coating.
On the back of the device, the Mi Mix 2S seems to be packing a vertical dual camera set-up which looks exactly like the dual camera set-up incorporated in the Redmi Note 5 Pro. The glossy appeal on the back of the smartphone, suggests towards Qi standard-based wireless charging technology. And if previous leaks about the device are to believed, the Mi Mix 2S will most probably be equipped with a 6.01-inch, FHD+ (1080×2160 pixels) display and will be powered by a Qualcomm Snapdragon 845 processor, backed by 8GB of RAM. And for power consumption, the smartphone might rely upon a 4400mAh battery.