WWE 2K16 tournament to be held at Indian Games Expo on 14th & 15th Nov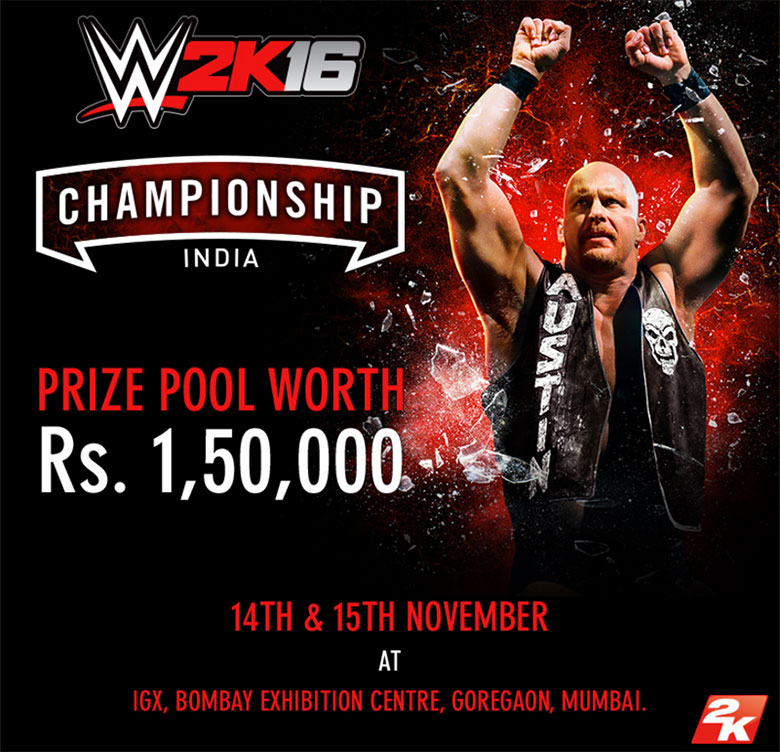 For the first time in India, at the Indian Games Expo (IGX), the wrestling fans will be able to play their favorite WWE 2K16 game for battling against others to grab the replica belt of WWE World Heavyweight Championship along with a good amount of cash.
The distributors of the game Express Interactive have announced a championship to take place on 14th and 15th November 2015 at the IGX. The IGX this year will be held at Bombay Exhibition Centre, Goregaon starting from 11 PM, in the presence of WWE Superstar Daniel O' Bryan. The latest installment of the WWE 2K franchise, WWE 2K16 is already released in the country for Xbox One, PS 4 and PS 3 video gaming consoles.
The person finishing first will get a Sony Playstation 4 along with an amount of Rs. 30,000 in cash with the replica of widely popular WWE World Heavyweight Championship belt. Even if you finish second, still you will get a PS 4 and cash of Rs. 10,000 along with a WWE belt. The third runner-up will only get Rs. 15,000 in cash with a WWE champion belt.
There is no entry fee charged by the organizers to take part in the tournament and every visitor will be given assured goodies as stated by the organizers. You can register for the upcoming tournament here. For more info you can visit the official site of IGX.