WhatsApp 'Pinned Chat' feature officially rolled out for all android users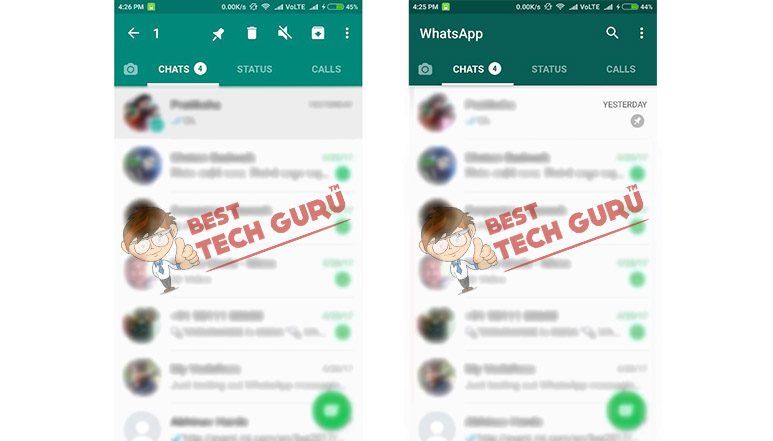 WhatsApp has finally rolled the Pinned Chat feature for all the Android users. Until now, the feature which was rolled out last month was available for Android Beta user only. The Pinned Chat feature basically allows the users to pin their favourite chats on the top of the chat-list, which will stay there irrespective of the time of sent or received messages of the chat.
The feature can be accessed in similar way as the Archive chat or mute feature. Just tap on a particular chat and select the pin option from the top bar, after which the chat will be moved to the top and will remain there. A user can only pin a maximum of 3 chats on the top. The Pinned Chat feature is added in the options list which earlier included Archive, Delete and Mute hence, there's nothing new to master or understand as it will simply appear as the fourth option in the list. There is also a provision to unpin the chats. The users just need to long press the option and pin will be disabled automatically.
The feature is only available for WhatsApp Android users as of now and its availability for WhatsApp on iOS or other platforms is still unknown. However, we can expect it to be rolled out for iOS soon as it usually doesn't take much time for a new feature to reach in other platforms once it is available for Android.
Apart from this, the WhatsApp beta version for Android and iOS was also included with new Album feature and the Text Status feature. The Album feature basically bundles up all the images by a sender and displays them in the form of an album similar to that of Facebook. And the Text status feature allows the users to directly keep a 'Text status' in the status tab. Both the features are still in the Beta and are expected to be rolled out soon.
We'll keep you updated, stay tuned!