Vivo unveils the Under Display ultrasonic fingerprint scanner solution at MWC Shanghai 2017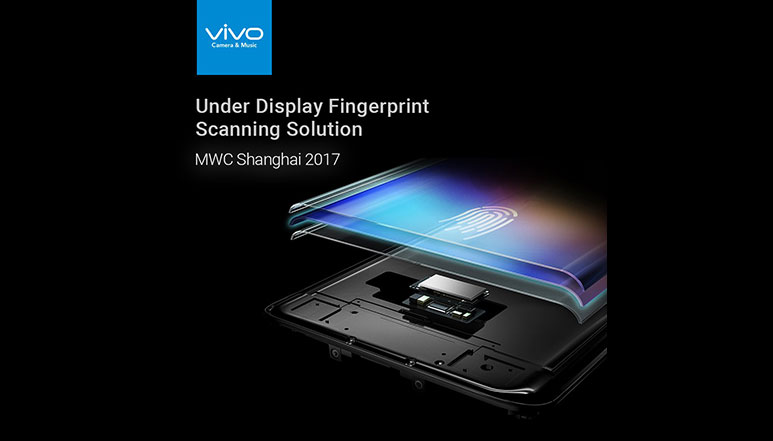 Vivo has unveiled its Under Display fingerprint scanning solution dubbed as the 'Vivo Under Display' at the MWC Shanghai 2017. The technology is apparently made under the dome of Qualcomm's latest next-generation ultrasonic fingerprint solutions which was also announced today a few hours ago.
The company showed this new technology on a prototype device during MWC 2017 event. Previously, Qualcomm had also stated that it will be demonstrating the new Fingerprint Sensors for Display and Metal with Vivo Communication Technology Ltd, using modified versions of the VIVO XPlay 6. The new fingerprint scanning technology makes the smartphone capable of scanning a fingerprint from within the display. The technology can be embedded under the display, behind the metal shell or even in the frame.
Similar to Qualcomm's Fingerprint scanning technology, Vivo Under Display fingerprint unlocking can scan through an OLED panel of up to 1200 um thickness. Using this technology, the smartphone won't be needing a physical space on the exterior to place the fingerprint scanner.
Coming towards how the technology works, it uses piezoelectric effects to produce and receive ultrasonic signals that pass through the OLED screen. The ultrasonic signal produces different reflection strengths on the ridges and valleys of the fingerprint which generates the image of the unique fingerprint, required for further identification.
Unlocking to new possibilities for your devices! Vivo proudly uncovers the latest Under Display Fingerprint Scanning Solution. #VivoMWC2017 pic.twitter.com/S0lISpZ2q5

— Vivo India (@Vivo_India) June 28, 2017
The company in context with the Vivo Under Display technology said:
"Compared to traditional capacitive and optical fingerprint recognition technologies prevalent in the industry, Vivo Under Display has tremendous advantages in terms of waterproofing and anti-ambient light. Based on ultrasonic technology, the fingerprint recognition technology can be further expanded to realize user interaction, such as gesture recognition, security verification and other fields, which will greatly enhance user experience."
While major tech giants like Apple and Samsung were struggling to embedded this technology in their upcoming flagships, Vivo coming with the in-display fingerprint sensor has made things more gripping now. With still a few months to go for the launch of Galaxy  Note 8 and iPhone 8, it will be interesting to see if they bring in something as innovative and revolutionary as the Vivo Under Display.
We'll keep you updated with more, stay tuned!