Sony Xperia XA2 Ultra with 16 MP + 8 MP dual front cameras leaked in live images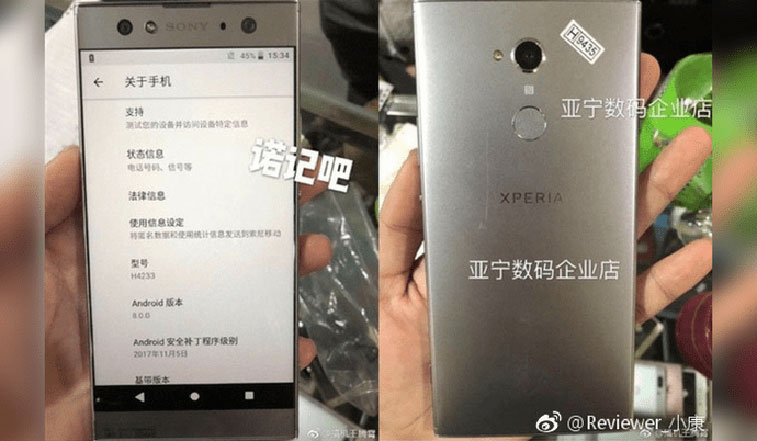 The new images show a Sony phone with dual front cameras with LED flash
The new phone might be the much awaited Sony Xperia XA2 Ultra
Rumors had spread back in September, when specifications of a new yet unreleased phone by Sony were leaked, when a benchmark test was published on GFXBench, about a possible flagship phone being in the development stage. In the leaked results, the phone was signified by a codename H4233, and the rest of the image had its specifications. Since then, everybody had been waiting for an official announcement of the phone by Sony, but no such announcement was made. In the following months, few more images turned up here; there, and as expected they managed to raise the hype surrounding the phone. Again with new live images appearing online, they hint towards the launch of Sony Xperia XA2 Ultra, which will feature dual selfie cameras & the latest Android 8.0 Oreo.
The H4233 which was listed on GFXBench had been confirmed as Xperia A2, with official confirmation being provided by SIRIM, the Malaysian product certification body. But saying outrightly, that H4233 and Xperia XA2 Ultra are the same, would be giving rise to another rumor. But even if there is a chance, that the evidence supporting the existing information is true, then we might have in our hand an innovative smartphone from Sony.
On the reality front, the new images of the Xperia XA2 Ultra suggest that the phone will feature a standard 16:9 display with thick bezels on the top and bottom. The dual front cameras along with a regular LED flash is clearly visible on the top bezel of the phone. The Sony Xperia XA1 featured a 16 MP camera with OIS on the front, so there is a good chance the XA2 Ultra will feature something fancier. If sources are to be believed, the phone sports a 16 MP + 8 MP camera on the front which is capable of 4K video capture.
And on the rear a single 21 MP sensor that also does 4K video recording as well. The phone will also have a large screen which will be a 6-inch Full HD (1920 x 1080 pixel resolution)display. There have been speculations about which processor might be incorporated in the machine, with Snapdragon 630 SoC topping the list. From the images, it can also be seen that there is a fingerprint scanner placed right below the rear camera.
There is a lot of confusion and mystery surrounding this phone, since every leak that has done the rounds, has appeared with a different code name. H4233 in the initial leaks, H3213 Avenger in a leak which appeared somewhere around November and in the recent leaks, H9345. Though all of this might be nothing but an information overload onto the masses. In order to mislead them from the main product, which as all have suspected to be, the very new Sony Xperia XA2 Ultra. But as always we will have to wait, for some official information.