Samsung 40HU7000 (40.2″) LED TV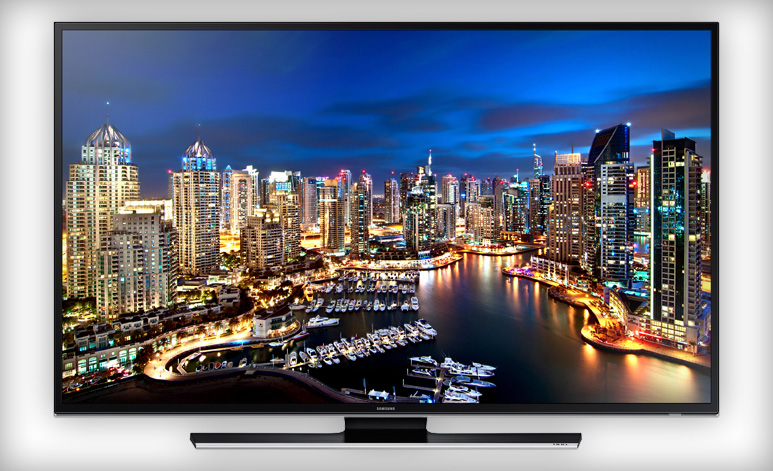 Review :
With 4K resolution being the latest and hottest trend in Television segment, every company is trying to offer the best set of features at a low price to tempt the customers. LG, Samsung, Sony, Micromax and Vu are the big names offering the 4K resolution.
This Television from Samsung is also following the 4K trend. This is a 40-inch Smart LED TV having a beautiful and slim design. This TV has an Ultra HD 4K resolution which is the most advanced resolution at present in Televisions. The picture quality is absolutely stunning with such a high-resolution on 40-inch. Your Home will become your new Theatre with this amazing life-like clarity and surround sound speakers. Being a smart TV, it allows you to access the smart world of internet and watch favorite movies, games and much more. This TV also supports 3G Dongle Plug and Play services for easy internet access. Screen Mirroring, Motion Control, Voice Control and many Smart features are present to keep you entertained always. Ultra HD 4K is the key feature and also the tempting feature of this Smart TV. Many companies are now looking forward for 4K resolution.
This 40″ Ultra HD 4K Smart TV from Samsung is totally worth its price providing you a stunning 4K picture quality and many more features. Watching movies will be a real great fun now on this 4K TV.
Specifications :
| PRICE | Rs [wpws url="http://www.flipkart.com/samsung-40hu7000-102-10-cm-40-2-led-tv/p/itmdws43z5qgvphf" xpath="//*%5B@itemprop='price'%5D/@content" xpathdecode="1"] @ Rs 65,602 @ Rs[wpws url="http://www.amazon.in/gp/product/B00MMGEKG0?creativeASIN=B00MMGEKG0&linkCode=w01&linkId=RUIWGYQ2LPN5XAXY&ref_=as_sl_pc_ss_til&tag=betegu-21" selector="#priceblock_ourprice"] @ |
| --- | --- |
| SCREEN SIZE | 40" LED TV |
| RESOLUTION | Ultra HD 4K (3840 x 2160) |
| SMART | YES |
| 3D | NO |
| PORTS | 4 x HDMI, 3 x USB |
| CONNECTIVITY | Built-in Wi-Fi, Ethernet, RF Input 1(Rear) |
| FEATURES | 3G Dongle Plug and Play, Screen Mirroring, Voice Control |
| INTERNET | Full Web Browser, Apps, Social Networking |
---
---
Photos :