Samsung 40F5500 (40″) LED TV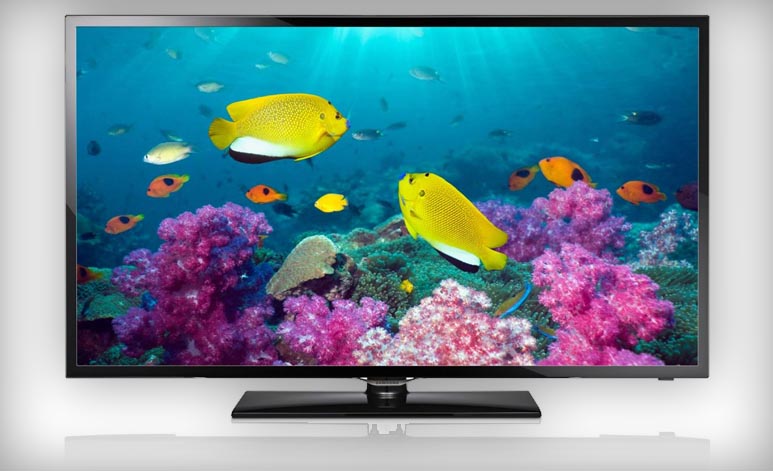 Review :
Samsung has a lot to offer in the world of entertainment with many exciting features and advanced technology. Samsung Televisions always provide you the best in terms of design, features and price. Samsung is broadly expanding their area of sales and increasing level of performance.
This TV from Samsung is an another beautiful product which gives you all-round performance. This is a 40-inch Smart LED TV loaded with all required apps and Smart features. The Full HD display provides you a great watching experience with stunning picture quality. By using "Wide Colour Enhancer Plus technology", you can experience the brilliance of colors in the crystal clear images. Samsung's Smart Hub feature offers you the best of the entertainment world. You can control your TV with simple voice commands or gestures of the hand, thus making it more easy and exciting to watch TV. Connectivity is on the go by connecting your USB drives or HDD to your Samsung TV and enjoy your favorite movies and shows. Dual-core processor makes multitasking very fast and efficient. You can browse through the  world of web and enjoy many games and apps. This Smart Samsung TV will keep you all busy and entertained.
This 40″ Full HD Smart LED TV from Samsung is priced around Rs. 60,000. The TV is equipped with all the Smart and advanced features which will make your entertainment more fun. The TV is very good in all aspects and a great choice to go for.
Specifications :
| PRICE | Rs [wpws url="http://www.flipkart.com/samsung-40f5500-101-6-cm-40-led-tv/p/itmdqy3zeregdf39?pid=TVSDU6T2TZBQMEHR" xpath="//*%5B@itemprop='price'%5D/@content" xpathdecode="1"] @ Rs 58,125 @ Rs[wpws url="http://www.amazon.in/gp/product/B00FR7TPZC?creativeASIN=B00FR7TPZC&linkCode=w01&linkId=UG7WSC6DUFOGFTY2&ref_=as_sl_pc_ss_til&tag=betegu-21" selector="#priceblock_ourprice"] @ |
| --- | --- |
| SCREEN SIZE | 40" LED TV |
| RESOLUTION | Full HD (1920 x 1080) |
| SMART | YES |
| 3D | NO |
| PORTS | 3 x HDMI, 2 x USB |
| CONNECTIVITY | Built-in Wi-Fi, Ethernet, RF Input 1(Rear) |
| FEATURES | DTV Tuner, Face Recognition |
| INTERNET | Full Web Browser, Social Networking, Apps, Game World |
---
---
Photos :