Samsung 32H6400 (32″) LED TV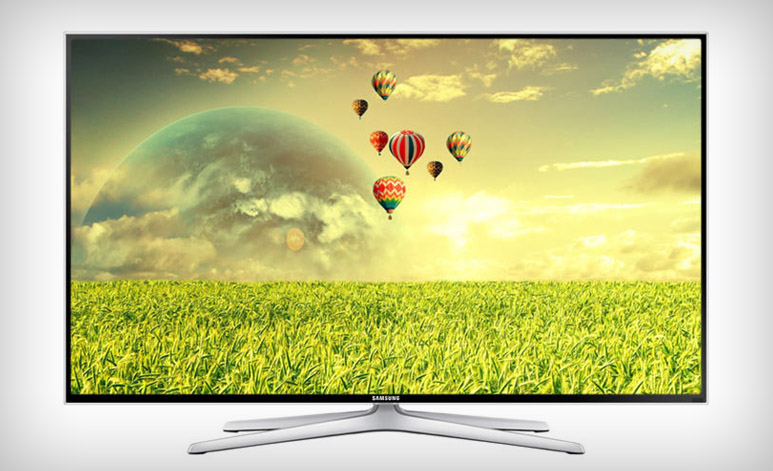 Review:
Samsung is always known for its High Quality and Good Customer Service, which makes it one of the top brand name in the Television segment. Samsung Televisions are amazing in terms of design, high-end features and reliability. One can trust the name Samsung easily.
This TV from Samsung is an all-rounder as it has got everything what you will seek in a perfect TV. Starting from its screen size which is 32-inch equipped with Full HD resolution LED display. The movie watching experience is stunning with this Samsung TV which gives you a clear, rich high-definition experience. With the 3D technology your TV shows and movies will no more be the same as the 3D view will leave you amazed. "Clear Motion Rate" reduces motion blur and delivers high clarity moving scenes. Through "Voice Command" you can control your TV on your words. With "Samsung's Smart View 2.0 app" you can access internet and enjoy anything on the big screen. This television comes with an intuitive "Touchpad" which lets you scroll down webpages and switch between Smart Hub panels. This Smart television is equipped with a powerful quad-core processor that offers an enhanced performance which enables faster multitasking and switching between content and web browsing.
This 32″ Full HD LED TV from Samsung is a perfect deal at a price just above 40,000 Rs. This TV has got everything and is a perfect hub of entertainment. It is a 3D TV, Smart TV, Full HD and so many exciting features. This is the Best you can get at this price.
Specifications:
| PRICE | Rs [wpws url="http://www.flipkart.com/samsung-81-28cm-32-full-hd-3d-smart-led-tv/p/itmdvjnvfa7bsdj3" xpath="//*%5B@itemprop='price'%5D/@content" xpathdecode="1"] @ Rs[wpws url="http://www.amazon.in/gp/product/B00CQ4746G?creativeASIN=B00CQ4746G&linkCode=w01&linkId=&ref_=as_sl_pc_ss_til&tag=betegu-21" selector="#priceblock_ourprice"]@ Rs[wpws url="http://www.snapdeal.com/product/samsung-32h6400-32-inches-smart/1621806591?utm_source=aff_prog&utm_campaign=afts&offer_id=16&aff_id=10737" selector=".payBlkBig"] @ |
| --- | --- |
| SCREEN SIZE | 32" LED TV |
| RESOLUTION | FULL HD (1920 x 1080) |
| SMART | YES |
| 3D | YES |
| PORTS | 4 x HDMI, 3 x USB |
| CONNECTIVITY | Built In Wi-Fi, Ethernet, RF Input 1(Rear) |
| FEATURES | Dongle Ready (3G / LTE), Voice Command, Screen Mirroring |
| INTERNET | Full Web Browser, Social Networking, Apps |
---
---
Photos: