Reliance JioFiber Preview plans spotted online, to offer free 100 GB data/month at 100 Mbps speed for 3 months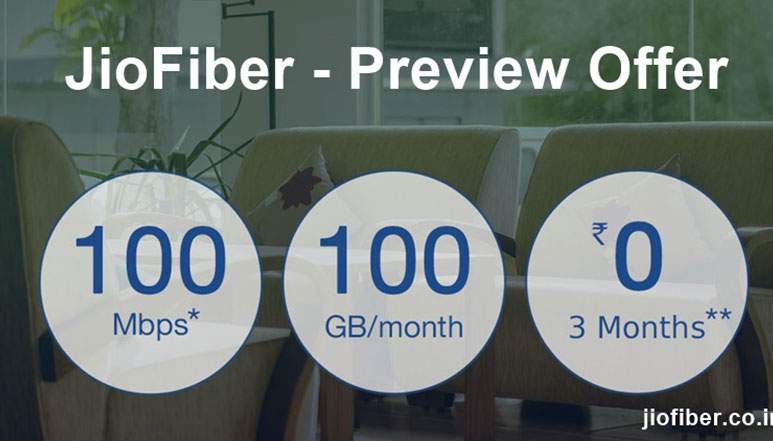 Reliance Jio's upcoming broadband service has been in talks since a while now and was highly looked upon considering the fact that it is said to offer a lightning fast internet speed. Reliance Jio is all set to launch its high speed broadband service soon and a recent spotting from Jio.com suggests that the company might just have mistakenly revealed its plans for the JioFiber service.
Jio's website was apparently spotted with the listing of the preview plan of the JioFibre service which has now been pulled off. As per the preview plan, Reliance Jio is said to offer 100 GB data per month at a speed of 100 Mbps free of cost for three months. The only amount that the users will have to pay will be a one-time installation charge of Rs. 4,500 which is refundable and will be returned to the customers if they do not wish to continue after the preview period.
Interestingly, the details of the preview plans fall inline with the previous rumours as well, which also mentioned that although the users will be benefited with unlimited amount of data but after the 100 GB monthly limit the speed will reduce to 1 Mbps. There were also leaks revealing the prices of the different broadband plans from Jio, which were categorised into three groups depending upon the data amount and speed.
For now, not every city comes under the JioFiber network and the service will be launched in selective cities initially and will spread to other cities across India thereafter. Jio's website was also spotted with list the cites where the service will be initially launched which includes Ahmedabad, Delhi, Hyderabad, Jaipur, Kolkata, Mumbai, Surat, Vadodara, and Vishakhapatnam.
To recall, the JioFiber service is under trial run in several big cities of India. Most of the trial is being done by the Reliance Jio employees, with availability of this trial plan being offered to others on the basis of availability of the service in a particular area.
We'll keep you updated with more, stay tuned!