Reliance Jio to discontinue its 3 months free 'Summer Surprise' offer following TRAI's order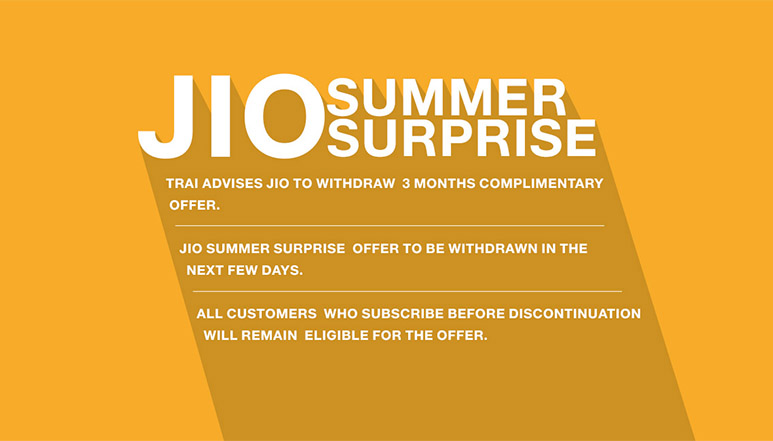 On a disappointing note, TRAI has ordered Reliance Jio to withdraw its 'Summer Surprise' offer, after which users will be no longer able to subscribe for the 3 months of free services. The 'Summer Surprise' offer will be discontinued but there is a good news for early adopters. Those who have already recharged will be still eligible for the offer and continue getting 3 months of complimentary services.
The Summer Surprise offer was announced on 31st March and provides customers with 3 months of free services if they are a Prime member and have recharged with Rs. 303 or higher before 15th April. However, after TRAI's (Telecom Regulatory Authority of India) ruling the subscription to the offer will be withdrawn before its scheduled period. Jio has confirmed that it will obey TRAI's order and pull the plug over the 'Summer Surprise' offer as soon as operationally feasible, over the next few days.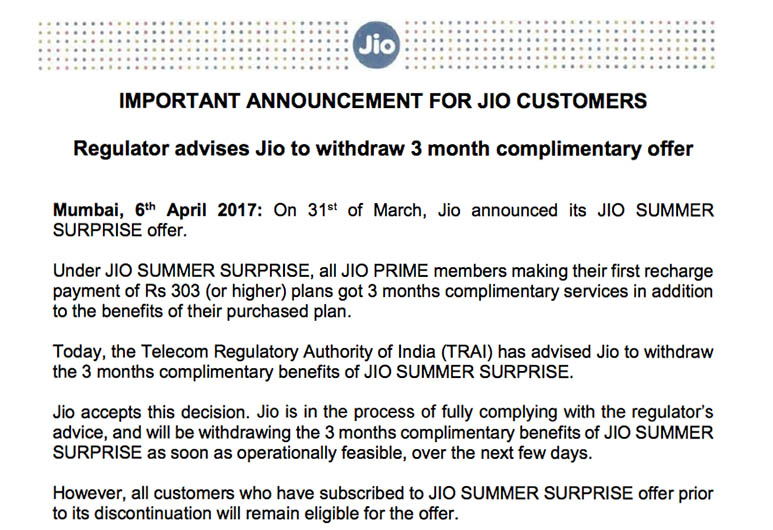 Interestingly, for those who are not under the 'Summer Surprise' offer, it may not be the end of free services yet! Jio has said that it will withdraw the offer over the next few days, which can be interpreted as there is still some time to enrol for the offer. Jio has also sent out SMS to its customers yesterday that reads, "Jio Summer Surprise! Offer ends soon. Recharge with Rs. 303 & get 3 additional months of complimentary service". So you can try recharging with Rs. 303 and might as well grab the Summer Surprise offer, even if you don't get the Summer Surprise offer, the Rs. 303 recharge will be used for your monthly paid subscription and will give you all the benefits of the free 'Happy New Year' offer.
All that being said, the registration deadline for Prime membership still remains 15th April and the users can still register to it till the deadline end. And reminding once again, if you have already recharged before the discontinuation you will get the 3 months of services free. Here's Jio's tweet:
All customers who have subscribed to Jio Summer Surprise offer prior to it's discontinuation will remain eligible for the offer.

— Reliance Jio (@reliancejio) April 6, 2017
Earlier:
Reliance Jio has over 100 million customers under its network and recently it has beaten Bharti Airtel to become India's largest paid broadband service. Jio had been providing free services since the date it was launched last year. Earlier it was expected that the free services would end on 31st December as announced, but the company extended the free services till 31st March under the 'Happy New Year' offer. To further increase the goodies, Reliance Jio brought in the Prime membership plan which requires users to pay a one time fees of Rs. 99 to get registered and then the users can avail all the benefits of the 'Happy New Year' plan for the next one year at Rs. 303/month.
This was pretty much it with the freebies until Jio announced the 'Summer Surprise Offer' and extension of deadline for the Prime membership subscription. This 'Summer Surprise Offer' will now be withdrawn, ending the free streak for those who failed to recharge.
We'll keep you updated, stay tuned!