Reliance Jio revises Rs. 309 plan with double benefits and rolls out new Rs. 349 and Rs. 399 plans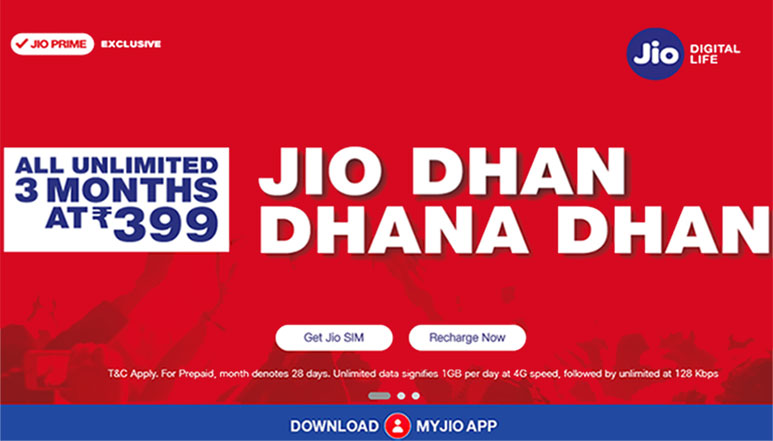 As the Jio 'Summer Surprise Offer' and the 'Dhan Dhana Dhan offer' are coming towards its end, the telecom giant Reliance Jio is again up with new and revised plans to continue the domination. Jio has brought in new plans worth Rs. 349 and Rs. 399 for pre-paid and postpaid customers which offers bundle of 4G services for a specific period. The company has also revised most of its previous plans which now come with different validity.
To recall, Reliance Jio had launched the Jio 'Dhan Dhana Dhan' plan back in April after the withdrawal of its 'Summer Surprise' offer. The Dhan Dhana Dhan offer provides 1 GB data per day for 84 days at Rs. 309 and 2 GB data per day with same validity at Rs. 509. However that 84 day period is on its end now in this July and therefore Jio has came up with new plans for its users to keep enjoying the same benefits.
The new Rs. 399 plan from Jio offers the same amount of data validity as that of the Dhan Dhana Dhan plan, i.e 1 GB 4G data per day along with unlimited voice calls and SMS for 84 days. Apart from this, there is also the Rs. 349 plan which offers 20 GB of 4G data without any daily FUP limit for 56 days, where the internet speed will be reduced to 128 kbps after the 20 GB data is exhausted.
Coming towards the revised plans, the Rs. 309 and Rs. 509 prepaid plans still offer the same benefits but with 56 days of validity. Prior to this, the Rs. 309 plan offered unlimited data at 1 GB per day FUP with free voice calls and SMS for 84 days, where the Rs. 509 plan offered unlimited data at 2 GB per day FUP with same validity. Along with this, the Rs. 999, Rs. 1,999, Rs. 4,999 and Rs. 9,999 plans now offer 90 GB, 155 GB, 380 GB and 780 GB 4G data respectively with increased validity.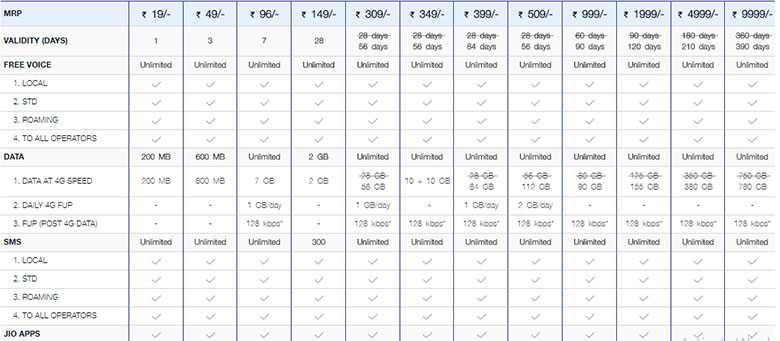 The Rs. 349 and Rs. 399 plans have also been introduced for postpaid customers. Here also the Rs. 349 plan offers 20 GB data for 2 months and Rs. 399 plan offers 1 GB data per day for 3 months along with free voice calls and SMS. Other postpaid plans i.e of Rs. 309, Rs. 509 and Rs. 999 have been revised accordingly. The details of all the prepaid and postpaid plans can be obtained from Jio's official site.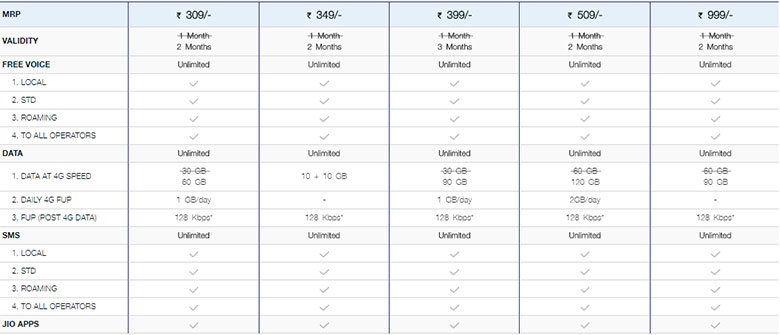 Meanwhile, it has been reported that a database containing information on over 120 million Reliance Jio customers has been leaked. As per the reports, the Reliance Jio consumer data has been posted online by a website named magicapk.com which has now been pulled off. The website asked for the Reliance Jio mobile number and displayed all the details such as email id, first name, last name, activation date for the SIM and also the Aadhar Card details.
A Jio spokes man later commented that data displayed on the website is not authentic, however reports from different media channels claim it to be accurate. The matter is still been looked in for and the company is yet give a firm word on this.
We'll keep you updated with more, stay tuned!