Reliance Jio Launched: Cheapest 4G Data Rates in the World, Unlimited Voice Calls Free Forever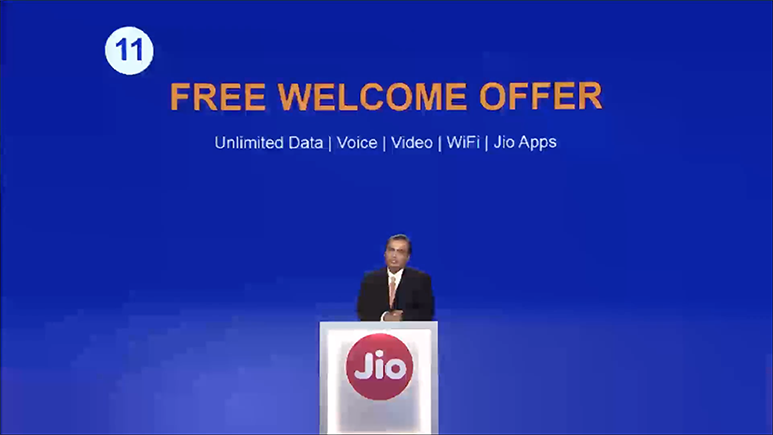 Reliance Industries (RIL) Chairman Mukesh Ambani has finally launched the Reliance Jio Infocomm services in India. Today, the company has announced its tariff plans which are surely going to bother most of the other telecom providers and at the same time it will bring smiles to all the consumers in India.
Reliance Jio claims to be the cheapest LTE provider in the world and has announced that all voice calls for Jio customers across all networks will be absolutely free forever, and there will be no roaming charges involved. When it comes to data tariff, the base data tariff at Jio will be only 5 paise per MB, or Rs. 50 per GB, and the more data you use, the lower the cost will be, so the data rates could actually go down up to Rs. 25 per GB. Data rates as low as this were never seen before.
Reliance Jio has 10 main Tariff Plans which are as below: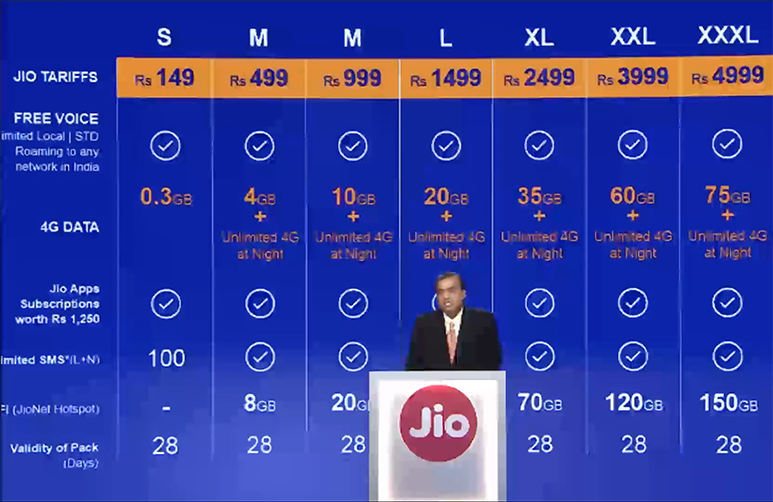 Except the first plan 'S' which is priced at Rs. 149, all other data packs will have Unlimited Free High Speed 4G Data at Night, which will be excluded out of the data cap from the plans.
Mr. Ambani claimed that Jio has one of the highest quality of services be it voice calls or data and that too not only in India but in the whole world.
According to Mr. Ambani, Jio will cover 90 percent of the population by March 2017, and in the meantime, it will be offered completely free – something that will also help to test interconnects with other networks. He also announced that the full suite of Jio apps – for streaming movies, music, and live television – will be completely free for all users until December 2017. Also, Students will get 25 percent extra data on the tariffs, if they show a valid ID when signing up for Jio.
Moreover, Jio customers will be able to see their bills in real time and won't have to wait till the end of the month. Additionally, Jio has taken another bold step of eliminating blackout days. Currently the Telecom operator charges extra rates during festivals like Diwali, Holi, etc. and their special plans don't work on the blackout days but on Jio, there will be no blackout days.
Jio services will become available from Monday, September 5,  and will be free for all users until the end of this year, December 31, 2016.
The 10 highlights of Reliance Jio are: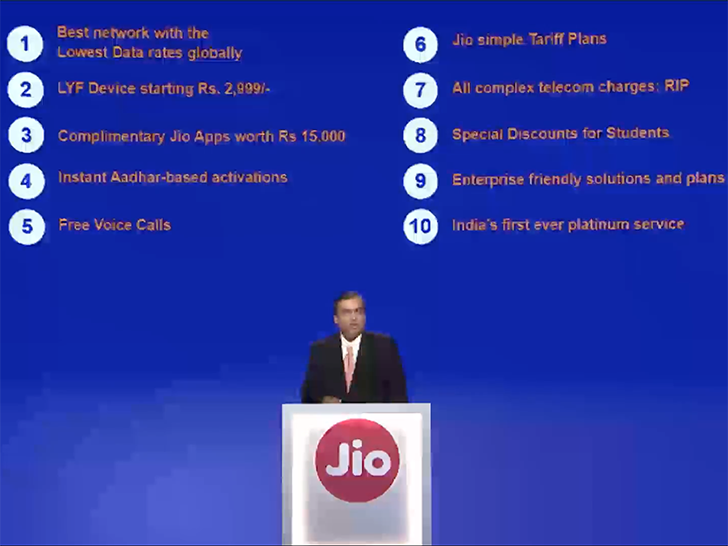 Mr. Ambani has set the target for Jio team to get 100 million customers in the shortest possible time to create new world record. The company also claims that their network is future proof and ready for virtual reality, augmented reality, 5G and 6G.
The JioFi Router will be available at Rs. 1,999 and the company has also launched new Lyf devices starting at Rs. 2,999.
At the end of his speech at the Reliance AGM where Mr. Mukesh Ambani has launched Jio, he also urged for "Fair Play" and "Healthy Competition" to other Telecom operators in the country and also claimed that other networks had been providing low interconnect to Jio customers due to which they faced poor voice call experiences in the last week. He also urged other Telecom operators to help customers who want to switch to Jio using MNP (Mobile Number Portability).
So, seeing all this, we remember the starting lines of Mr. Ambani's speech, "Today we will create history", and we believe Jio has not only created history but also a true revolution in the Telecom sector in India as the country, has not seen any kind of this ever before. Most of the Telecom operators in the country were earning fat profits but still the quality of service was poor and the prices were very high, with the launch of Jio there seems no other option for other operators than to rethink their strategy and come out with a real competition to Jio, which is only going to make the customers happy.