Reliance Jio announces Surprise Cashback offer of Rs. 3300 on recharge of Rs. 399 for New Year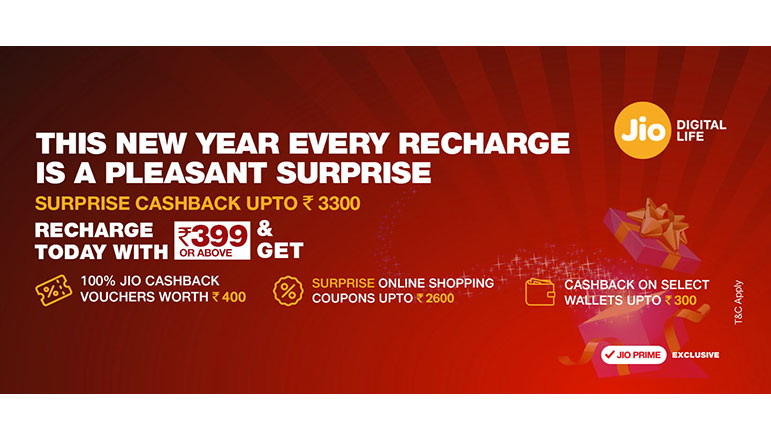 Reliance Jio took the telecom industry by surprise, back when they launched their services, along with other lucrative offers. Within no time the company saw its consumer base grow, and it sent other telecom companies into a state of turmoil, as they started losing their subscriber base. But as the days went by, other telcos took drastic steps to ensure that Jio doesn't end up dominating the market entirely. Which is why, Reliance Jio that has increased its consumer base to over a 160 million subscribers, has been facing a tough competition in the market, to further that number. But once again Mukesh Ambani's prowess in peaking the interest of the masses has worked up to its potential. As Jio has announced yet another cashback offer of worth ₹ 3,300 on recharges above, or worth ₹ 399, to end the year on a high note.
Reliance Jio had announced a similar offer in the month of November, more prominently known as the triple cashback offer, which promised cashback of worth ₹ 2,599, to the consumers. The cash returns, under the new Reliance Jio Surprise Cashback scheme, offers up to ₹ 3,300 cashback in the form of vouchers, which are automatically credited to the consumers MyJio application, which can then be used on the application, partner wallets, and e-commerce stores. This offer is only applicable to Jio Prime Members, which is why the minimum amount of the recharge should be ₹ 399. The consumers will receive ₹ 400 worth of cashback over an eight-month period in the form of ₹ 50 vouchers each, with the first cashback coming in within 48 hrs of the recharge.
In order to ensure that, all of this goes smoothly, Jio has partnered with several popular digital payment service providers such as Paytm, Freecharge, Mobikwik. Which for the consumer means, a 100% instant cashback onto the wallet for both existing and new Jio users. When they recharge their mobile number using Amazon Pay or Paytm, new Jio users get ₹ 50 cashback while existing users get ₹ 30.  And with Mobikwik, consumers can get up to ₹ 300 in returns for both new and existing Jio consumers. Apart from these, new and existing consumers can also avail this offer on PhonePe which is offering ₹ 75 and ₹ 30, Bhim UPI offering ₹ 100 and ₹ 30, Freecharge with ₹ 50 and ₹ 30, respectively. Also, there are 50% cash returns on OYO Money up to a value of ₹ 1,500.
The remaining ₹ 2,600 worth of vouchers can be availed for making purchases on e-commerce stores who have partnered with the telecom company.  As announced, the consumers can avail benefits of ₹ 2,000 on the purchase of electronics worth ₹ 10,000, ₹ 1,000  and ₹ 500 off on booking of roundtrip and domestic flights on Yatra.com. Furthermore, the consumers can avail cash returns of ₹ 300 on order of ₹ 1,500 on Grofers and discount of 20% on minimum purchase of ₹ 600.  And that's not all, consumers can also avail offers of 20% off on ₹ 1,000 booking value at Zoomcar and 30% discount on OYO Rooms.
The offer is valid until January 15, 2018, as of now. But if we keep in view Reliance Jio's track record, it certainly can extend beyond the above-mentioned date. But all in all, it can certainly be called as a boon for the consumers, especially with the year approaching its end.