Poll Results: Micromax is the Top choice among Indo-Chinese brands, Xiaomi not far behind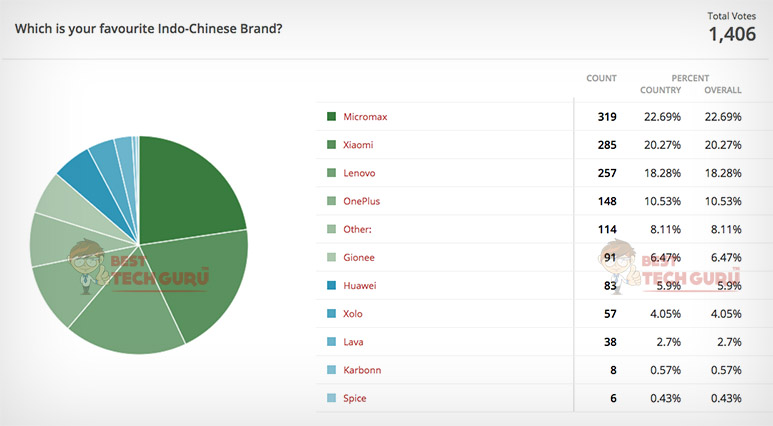 Over a month ago, we asked you to tell us which is your favourite Indo-Chinese smartphone brand, as over the course of last two years these emerging brands have captured more than half of the Indian market. As the poll was held for only Indo-Chinese brand we hadn't included the brands like Apple, Samsung, Sony, etc in our poll. Still the results which we got in our poll are quite surprising.
The poll asks – "Which is your favourite Indo-Chinese Brand?" We provided 10 options to our readers with the most popular Indo-Chinese Brands like Xiaomi, Micromax, Lenovo, OnePlus, Gionee, Huawei, Xolo, Lava, Karbonn, Spice but there are still few brands left which are doing good so, we left an option for you to enter any "other" brand. We got over 1,406 responses from all over the country voting for their favourite Indo-Chinese Smartphone brand.
The poll result clearly shows us that the Indian smartphone manufacturer, Micromax is the ultimate winner of this poll with 319 votes which means 22.69% of people voted for it. The Canvas series among others and company's own subsidiary brand Yu has taken the country by storm which results into the first place for Micromax in our poll.
Well that was expected but it is very interesting to see that the runner-up of the poll is not far behind. The second spot in our poll is snatched by probably the world's biggest startup Xiaomi with 285 votes i.e. over 20.2% of people voted for it. Xiaomi now being the third largest smartphone maker in the world currently holds a pretty good share in the Indian market.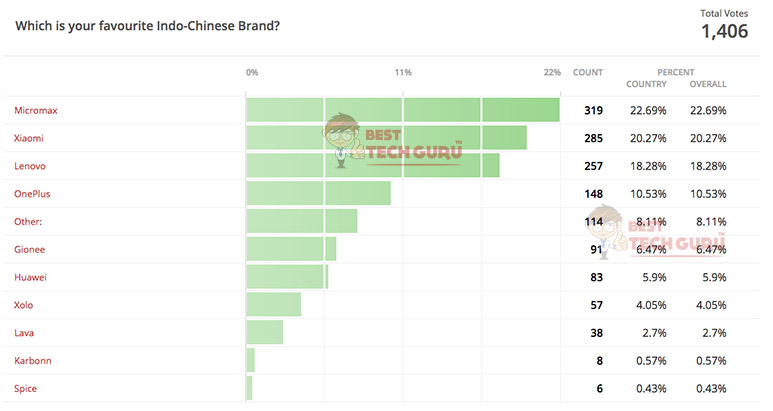 The third and fourth spot is grabbed by Lenovo with 257 votes (18.28%) followed by OnePlus with 148 votes (10.53%). Lenovo's budget and mid-budget smartphones are sure a treat to users as they pack great features at great price. Whereas the OnePlus One alone was sufficient to allure the users with its stunning specs even if it costs on the higher side.
Surprisingly we got 8.11% of people's vote for "Others". Out of the 114 users who have voted for "other" option, most of them have voted for brands like Sony, HTC, Samsung, etc but very few of them have actually voted for Indo-Chinese brands like Intex, Vivo, Umi, Nubia (ZTE), etc and these numbers are very few so we are not mentioning them.
At the fifth and sixth spot, it was Gionee with 91 votes (6.47%) and Huawei with 83 votes (5.9%) respectively. Well, it's shocking to see Huawei, the Chinese giant at the sixth spot! The last four spots were grabbed by Indian smartphone companies like Xolo with 57 votes (4.05%), Lava with 38 votes (2.07%), Karbonn with 8 votes (0.57%) and Spice with 6 votes (0.43%) at the 7th, 8th, 9th and 10th positions respectively.
One thing got pretty clear from our poll that, even though an Indian smartphone manufacturer has topped the poll but the Chinese brands have real dominance in the Indian market. So let's checkout some interesting numbers from the poll:
Number crunching:
Only 30% of buyers prefer Indian brands over Chinese brands, out of these 30%, almost 75% prefer Micromax over all the other Indian smartphone manufacturers.
More than 61% of buyers prefer Chinese brands over Indian brands, out of these 61%, 33% buyers prefer Xiaomi & 30% buyers prefer Lenovo among all the other Chinese manufacturer.
Well over 61% of Indian buyers prefer between Micromax, Xiaomi & Lenovo among all the other Indio-Chinese brands.
Hope you liked this poll and please don't forget to share this interesting post with your friends. Also, if you have anything to add to this story, please comment below and you can also let us know, which poll do you want to see next.