Poll Results: 80% People Prefer 5 inches or Bigger Smartphones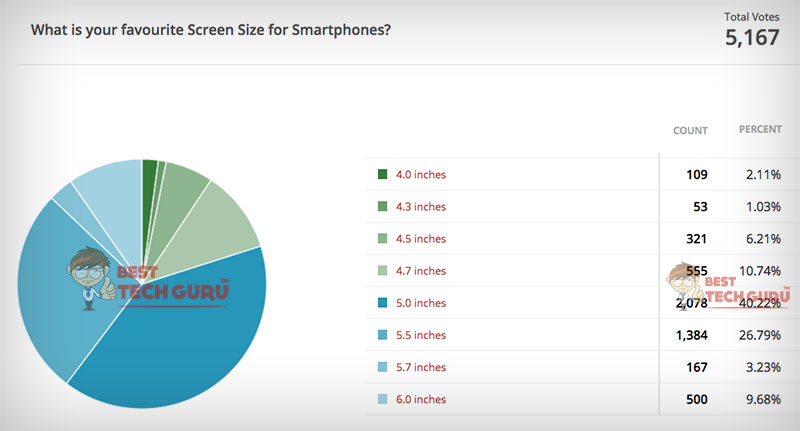 There was a time when a simple 1 inch screen phone of Nokia would amuse us. But now when technology has gone way too far, even 5-6 inches screen of smartphones doesn't look big. Smartphone companies are trying to make each and every single flagship of theirs bigger and better and give others a run for money. In this aspect, they are increasing the screen sizes with every product as they all firmly believe that – the bigger, the better. But how big it can get? You can't carry an 8 inch monster into your pocket every day. So we held a poll to find what screen size is preferred by the people.
The poll asks – "What is your favourite screen size for Smartphones"? We provided options to people with almost all the screen sizes which range from 4 inches to 6 inches screen size. We got over 5,169 responses from all over the world in a period of almost 2 months.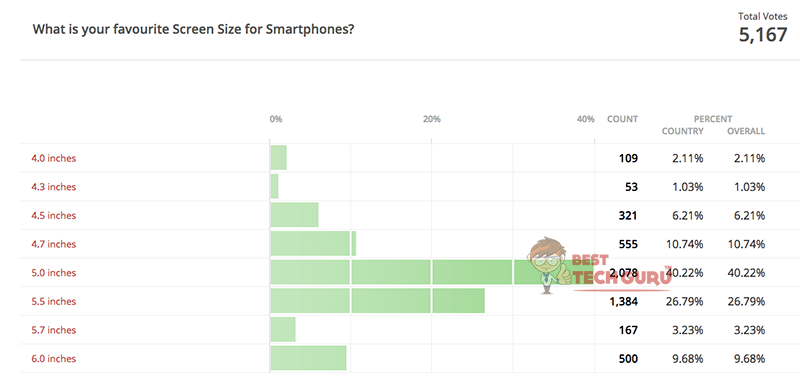 From the results you can see that, 5.0 inches of screen size has got 40.2 % of votes that is 2,078 votes in the poll and it is the most preferred screen size for people. It is not surprising that even the market is filled with most of the 5.0 inches screen phones, which are available in every price range.
The second most voted screen size was the 5.5 inches screen gathering 26.79% or 1,384 votes from all over the world. No wonder that the companies have recently started to manufacture this screen size on big scale.
The most intriguing thing from our poll was the fight for third place, from the results we can see that the 4.7 inches of phone have won it with 10.74% i.e. 555 votes against the 6.0 inches of phone with 9.67% i.e. 500 votes. Even the 4.5 inches of phone went for fight with 6.21% of votes i.e. over 321 people voted for it.
The remaining were 4.0 inches, 4.3 inches and 5.7 inches of screen sizes. Surprisingly 5.7 inches screen size got the third last place in our poll with 3.2% (167 votes) maybe because of lack of options available in market for this screen size. While 4.0 inches got 2.13% (110 votes) and 4.3 inches got only 1.03% (53 votes) and are at second last and last place respectively in our poll due the outdated or small size as compared to recent market trend.
Key Outputs:
91% people prefer 4.7 inches or bigger phones.
80% people prefer 5 inches or bigger phones.
67% people prefer phones between 5-5.5 inches.
40% people prefer 5.5 inches or bigger phones.
20% people prefer phones below 5 inches.
17% people prefer 4.5-4.7 inches phones.
13% people prefer phones above 5.5 inches.
3% people prefer phones smaller than 4.5 inches.
Interesting Facts:
5.0 inches of screen size is the sweet spot for smartphones, it is the most popular with 40% votes and has a clear lead of more than 13% to its closest rival.
It was surprising to see 6 inches so close to the third most preferred size, as it lost the spot by mere 55 votes.

As expected basic 4 inches screen sized phones are now history according to our voters.
So, smartphones manufacturers are producing bigger and bigger screen sized phones every year and lot of people are preferring the bigger phones. We can't say where the trend will go in the next 5-10 years, but seems more likely to get stabilised around 5″-6″ than to go back to lower than 5″ sized phones.
You can vote for our new ongoing poll "Which is your favourite Indo-Chinese Brand?" here: http://poll.fm/5c63q
Please share this story with your friends to help them decide over the screen size of their next smartphone.