Poll Results: 54% People Say Performance is Most Important While Buying a New Phone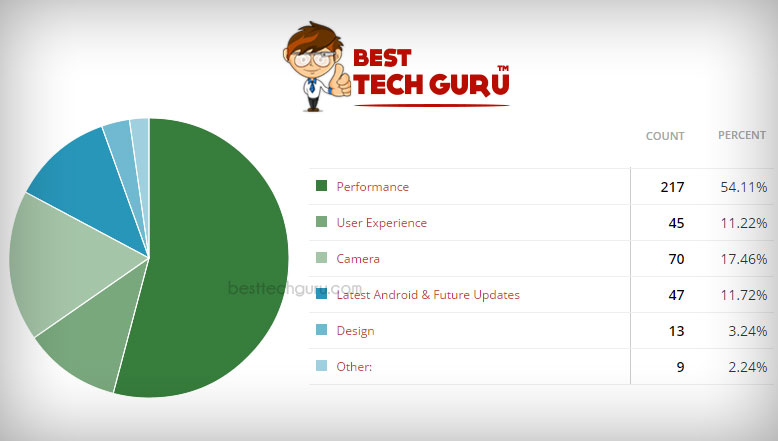 Smartphones are now becoming a basic need for many people from all age groups. Children and students need smartphones for enjoyment, Businessmen and their employees have trouble imagining a day without them, even old age people are not far away from this smartphones. After only about a decade, smartphone technology is so successful that people can't imagine a life without it. Well, why not, besides making phone calls, nearly all smartphones today can natively provide directions through GPS, take pictures, play music, keep track of appointments and contacts, with millions of apps work smartly.
So, smartphones are important no doubt, but which is the most important factor in a smartphone? This question surely pops up while buying a smartphone. Every smartphone has some uniqueness and some flaws as well. Different people will have different opinions according to their choice and requirements. So, to know the different opinions of people we conducted a poll last month from 18th April.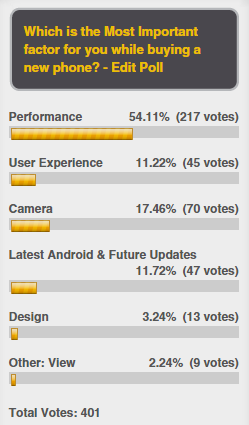 The poll asks – "Which is the most important factor for you while buying a new phone"? We provided people with some important factors of a smartphone to vote for such as – Performance, User Experience, Camera, Latest Android and Future Updates, Design and Other : View. We did not mention the Battery factor here, as it is a basically important thing which everyone wants.
We received Total 401 Votes in this poll. As you can see now, the maximum number of votes are with Performance. So, according to people, Performance is the most important factor in any smartphone, which is true. The performance of a smartphone will define its reliability and validity. So, 217 votes (54.11%) are for Performance of a Smartphone.
The next important thing is Camera, well people love clicking around. Now, with the Selfie trend it has become a more important thing to have a good camera at rear and front also. So, 70 votes (17.46%) are with Camera as the second most important factor in a smartphone.
Everyone likes to be updated with latest trend and technology of a smartphone. Android is heart of smartphones, so any update regarding Android should be known. With 47 votes (11.72%), Latest Android and Future Updates are important factors after Camera.
For many years, high-end smartphones were judged and critiqued based predominantly on their specs. It's understandable, given that hardware leaps used to have such a noticeable impact on their performance. The specs will still be important, given that we all want a machine that's future proof for at least a few years. But as time goes on, we'll just be looking for a smartphone that offers a great user experience. Using a smartphone which is not comfortable for you to use has got no meaning. So, User Experience also plays an important role in a smartphone. User Experience has 45 votes (11.22%).
The Design of smartphones have evolved with time, from a simple bar design to sliders to touchscreen smartphones, curved design and in future the design will be more advanced. Looks does matters but not on the cost of features and performance. In present time, high-speed internet, gaming, multitasking etc. are some needs which can be fulfilled by a smartphone with better hardware and software. So, people are less bothered about design of a smartphone, what matters is performance. With 13 votes (13.24) design is considered as less important factor.
So, according to the Poll conducted by us, its crystal clear that Performance of a smartphone is the most important factor in a smartphone.

We are conducting a new poll which asks – What is your favorite Screen Size for Smartphones?
So, share your views with us by Voting your favorite screen size here – http://poll.fm/59pay