Paytm Payments Bank launched: Offers 4 percent interest rate per annum, to open 31 branches in first year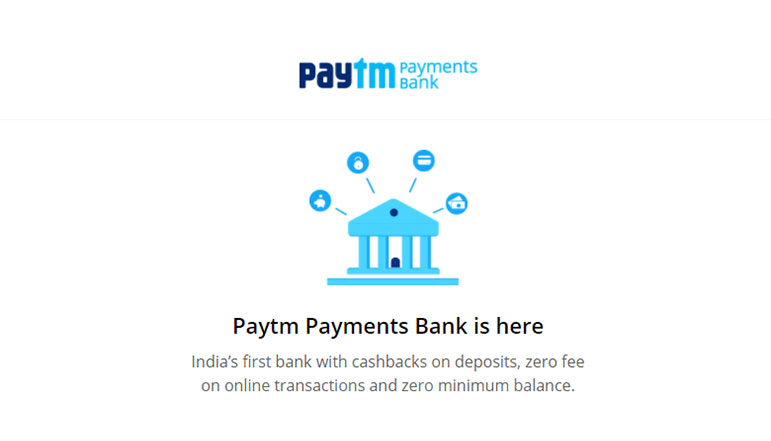 Paytm has rolled out its Payments Bank today, just as it was scheduled. The digital wallet company, last week had received final approval from RBI and was all set to commence its payments bank services in India. With the launch, all the Paytm Wallet users who wish to continue are being moved to Paytm Payments Bank Ltd (PPBL).
PPBL will offer almost all the banking solutions to its customers except the the loan service. The bank won't be able to lend money as of now but it is planning to add this provision in near future. PPBL is offering 4 percent interest rate per annum on deposits in savings accounts whereas there is no interest offered for current account holders. The accounts will be of zero balance type, where the users will not be required to keep a minimum amount in their account. Apart from this Paytm Payments Bank has also made all forms of transfers, like NEFT, RTGS, IMPS free of cost.
The online transaction service is made free by PPBL, however there are charges for most other banking services provided. The services like passbook, cheque book and debit cards will be chargeable at a price of Rs. 100 whereas the virtual form of these services are free. There is also a limit on the number of free withdrawals through the RuPay debit card provided by the company.
Paytm is planning to open 31 branches and 3,000 customer service centres during first year of operations, followed by which the payments bank is looking to bring 500 million customers on board by the year 2020. Paytm will not be investing in the market or in risk-based bonds but rather play it safe by investing in government bonds.
Vijay Shekhar Sharma, Chairman, Paytm Payments Bank, said during the launch:
"RBI has given us an opportunity to create a new kind of banking model in the world. We are proud that our customer deposits will be safely invested in government bonds, and be used for nation building. None of our deposits will be converted into risky assets."
At present digital wallets and the bank accounts are two separate operations, where the users will have to open a bank account with Paytm to be a part of its banking system. Initially the accounts opening will be via invite only, and interested customers can visit paytmpaymentsbank.com or get an invite via the Paytm iOS app. Once they have the invite link, customers can open an account using their Aadhaar number and biometric credentials.