Paytm announces BHIM UPI integration; now available on Paytm Android app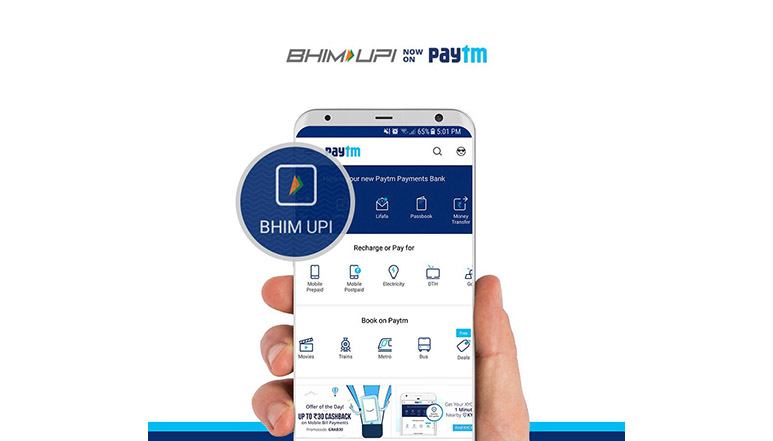 Paytm aims to be the largest issuer and acquirer of UPI
Users can link any bank account with UPI ID
Users can send Rs. 1 Lakh a day, as per NPCI norms
In order to boost its presence in payment services, Paytm will now allow users to create BHIM UPI ID on its app, which will be issued by Paytm Payments Bank. Integration with BHIM will help to reduce time taken for payments and will also boost business opportunities for merchants. BHIM (Bharat Interface for Money) was launched in last December, it is developed by National Payments Corporation Of India (NPCI). BHIM UPI on Paytm is currently available on Android and will be soon rolled out for iOS.
This move comes after Reserve Bank Of India (RBI) recently directed financial companies to make Know-Your-Customer complaint wallets inter operable as soon as possible. KYC is done by banks & financial institutions in order to obtain and verify customers identity and ensure that services are not misused. Although UPI is launched earlier and most banks and big players like Google have launched their UPI based apps, its integration with Paytm which is one of the most popular mediums for digital transactions in India, will surely help the spread of UPI in India. With BHIM UPI integration, the time of transaction will be reduced between two banks as there is no waiting time to add beneficiary.
With BHIM UPI integration on the Paytm app, users can create their own Paytm BHIM UPI ID, which will be their [email protected] by default. Users can link their Savings bank account with this unique Paytm BHIM UPI ID and start transactions. Users can also link their UPI ID with multiple bank accounts. Once the ID is created, users can perform transactions with banks which offer UPI services. As per the NPCI guidelines user can send money upto Rs. 1 lakh a day using their UPI ID.
All Paytm BHIM UPI transactions will be available in the Paytm passbook. A user has to create an MPIN, which is a 4 or 6 digit PIN that will be used for authenticating UPI transactions.
While announcing BHIM UPI integration with Paytm App, Renu Satti, MD and CEO, Paytm Payments Bank said:
"As a part of our journey of being a truly open payment platform, consumers and merchants should both have a complete range of choices to select payment source and destination.With the availability of BHIM UPI to our large user base and merchant network, we believe the next wave of digital payments will begin soon."