OnePlus 5T launch date announced: To be unveiled on Nov 16 in New York, 'early birds' sale to start from Nov 21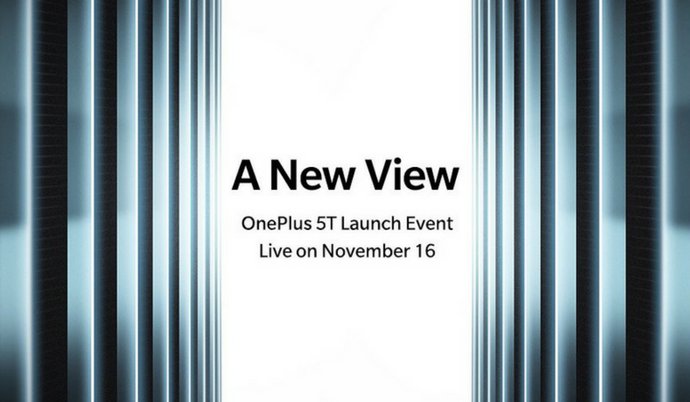 OnePlus 5T will be launched in New York on November 16
The event will be live streamed on the company's website
The flash sales for 'early birds' will start from 21st November in India
The phone has Dual cameras and may run Android Oreo 8.0 out of the box.
Following numerous leaks and rumours, today OnePlus finally revealed that it is going to launch the new OnePlus 5T on November 16th. OnePlus revealed that the event is going to take place in Brooklyn on November 16, at 11:00 AM local time (9:30 PM IST). The date was already leaked & the company was also teasing location of launch as New York. The launch event is named as 'A New View' and it will be live streamed on OnePlus official website.
For the fans, the OnePlus community invited its members for the launch event where OnePlus 5T will be unveiled. For those interested in attending the event OnePlus will start the sale of tickets through its launch page from November 8th. The tickets will be sold at $40, which translates to Rs. 2,600 approximately.
While the company unveils the phone on November 16, it has also revealed the plans for global roll out of the smartphone. In India, the company plans to have flash sale for 'early birds' after 5 days of launch i.e. on November 21, while the official sales will start from November 28. The device will also go up for sale in North America & Europe from November 21. The phone will be available in China from December 1.
Based on numerous leaks, the OnePlus 5T is expected to have a 6-inch FHD+ AMOLED edge-to-edge bezel less display with an aspect ratio of 18:9 and Snapdragon 835 under its hood. It will also feature the dual cameras & an upgraded front facing sensor. Like OnePlus 5, the OnePlus 5T is also expected to ship with 6 GB and 8 GB RAM variants with 64 GB and 128 GB as internal storage options. OnePlus has already confirmed that it wont be getting rid of 3.5 mm headphone jack. It is expected to ship with Android Oreo 8.0 out of box.