Nokia Lumia 510 Review, Specifications & Price in India
Nokia Lumia 510 price in India: 9300 – 9500Rs.
Nokia has added a new budget phone "Nokia Lumia 510" to its windows based lumia series smartphones. It runs on Windows Phone 7.5 platform.  In this review, I am not going into the complete mess of hardwares and all. But I will highlight some most important features and specifications the phone provides:
The phone has a 4″ TFT capacitive touch screen
The phone runs on an 800 MHz processor with 256 MB RAM
The phone features a 5 MP camera with auto-focus,Geo tagging and face detection
The phone has 4 GB internal memory as well as 7 GB of free storage with Skydrive (Sky drive is the cloud service provided by microsoft)
The phone has a 1300 mAh battery, providing 6 hours talk time in 2G and 9 hours in 3G
And I would like to clearly specify that the phone has bluetooth V2.1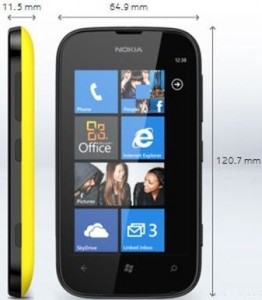 It is the cheapest smartphone among the Nokia Lumia series of smartphones. The hardware is good but, it is reduced to fit the budget. The overall performance is good.
As we all know, the smartphone market is dominated by Samsung and its budget android phones as well as the premium high priced phones and tablets are performing too well and Nokia has launched this phone at low price to somehow gain its position back and survive in the market.
If you are the hardcore fan of Nokia, this phone is worth buying. It is value for money.
But one thing I will like to mention is that, no matter how hard nokia is trying to make its Lumia better, and they have done it so far but, it runs on windows platform which in comparison with android is definitely lagging.
Andoird, today is the best mobile o.s. and you should prefer it if you are buying your first smartphone or haven't used android yet. But, for Windows lover it is a good buy!