Motorola launches JBL Soundboost 2, GamePad & Moto TurboPower Pack Mods; can be rented at Rs. 399/week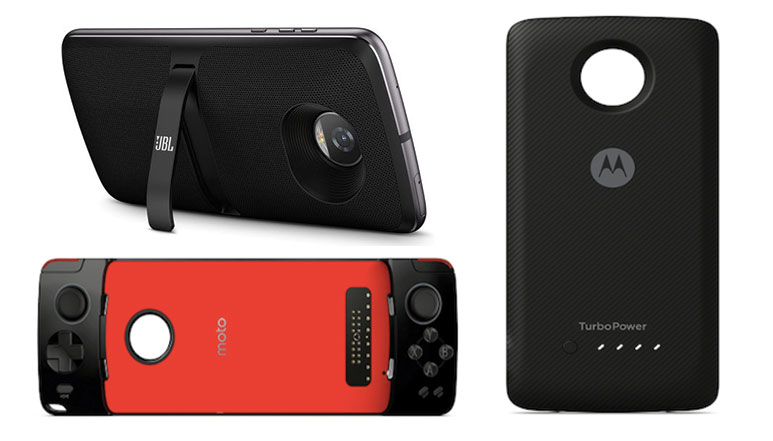 Motorola has recently announced the launch of three new Moto Mods – JBL Soundboost 2, GamePad Mod and Moto TurboPower Pack Mod in the country. Each of the mods, more unique than the other, offer users an opportunity to transform their regular phones (which come with Moto Mods support) into their personal entertainment center. The JBL Soundboost 2 and GamePad Mods are priced at Rs. 6,999 while the innovative Moto TurboPower Pack Mod is priced at Rs. 5,999.
These mods server only specific purpose but require you to shed out a considerably high price so, Motorola has partnered with RentoMojo to allow you to rent the Mods for a specific time if you do not want to buy the Mods. The consumers can rent the Moto Mods from RentMojo at Rs. 399 per week.
If you are new to this and are wondering what the Moto Mods are, then you need to know that Moto Mods are external devices, that can be snapped like a cover on to the Moto Z, Moto Z Play, Moto Z2 Play, Moto Z Force Droid, and the Moto Z2 Force Edition phones and they can be transformed into an entertainment/utility center on the go. Previously, Motorola had launched three mods in India, which could not gain enough popularity with the consumers. So in revisiting the mods again, Moto has improved upon their previous mistake and has offered better products this time around.
Talking about the mods themselves, the JBL Mod which is called as the JBL SoundBoost 2 is a successor to the previously launched JBL SoundBoost Mod. If the claims of the company are to be believed, the mod which comes with a water-repellent coating offers users 10-hours of battery life for audio playback. It comes in with a built-in kickstand and offers a hands-free experience, which by the way also features a fabric-coated back for better grip and comes in Red, Blue, and Black color variants. The JBL SoundBoost 2 app that gets installed on the first usage, also allows the user to manage the audio settings.
The Moto GamePad Mod, which features dual control sticks, a D-Pad, and four action buttons, comes pre-installed with a 1,035 mAh battery. The mod, as mentioned earlier, is priced at Rs. 6,999, when plugged to the handset transforms your phone into a gaming console, which might make some users nostalgic about the Nintendo 8-bit, GameBoy and the PSP gaming consoles. The Moto TurboPower Pack Mod comes with a 3,490 mAh battery, and a 15W charger that supports fast charging. If the claims of the manufacturer are to be believed, it can charge the phone for up to 7-hrs of battery life at 30W within 20 minutes of connecting the mod.
The move to launch these new Moto Mods in collaboration with Rentmojo, sees the smartphone manufacturer taking an innovative approach towards enticing new consumers. And their intentions are pretty clear as mentioned by Sudhin Mathur, Managing Director, Motorola Mobility India when he said:
"This is an India-first initiative, as we want people to experience the magic of mods before, they actually go out and buy it. So, whether it is extra battery life or great sound that they are looking for, we will have a mod for that."