Micromax Canvas Turbo | Specifications, Price & Review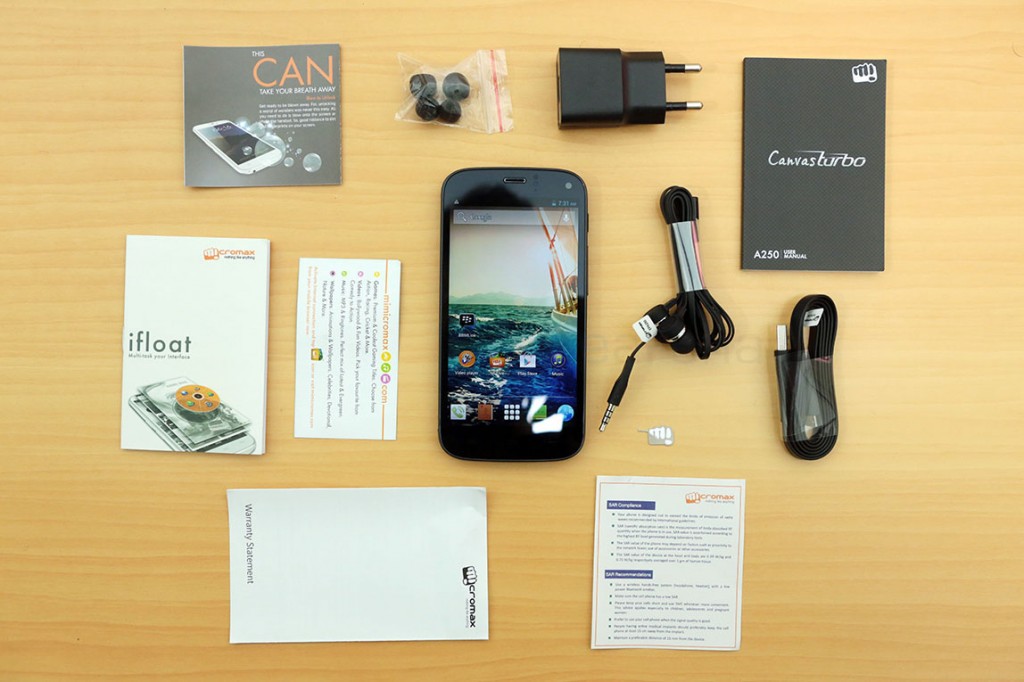 This is a stunning phone launched recently by Micromax. It has a very good design and the configuration is just too good. You just don't need to look at the other phones if your budget is 20,000 Rs. , this is the best, you can just go for it!!!!
Micromax Canvas Turbo has 1.5 GHz Cortex-A7 Quad Core processor which is very powerful and fast. And to complement the CPU, it has 2 GB RAM. The touchscreen is awesome with 1080p IPS CGS (Continuous Grain Silicon) Display. Micromax Canvas Turbo has 13 MP Rear Camera With LED Flash and 5 MP Front Camera which are good.
The Internal Storage is 16 GB but, one thing you might dislike is that, it is microSD unexpandable. It has powerful Li-Ion 2,000 mAh battery which gives good battery life. Overall the phone is amazing!!!
Specifications:
| PRICE | Rs. [wpws url="http://www.flipkart.com/micromax-canvas-turbo-a250/p/itmdpxkkhehb4fct?affid=besttechgu" xpath="//*%5B@itemprop='price'%5D/@content" xpathdecode="1"] @ Rs. [wpws url="http://www.snapdeal.com/product/micromax-canvas-turbo-a250/2005162804?utm_source=aff_prog&utm_campaign=afts&offer_id=16&aff_id=10737" selector="#selling-price-id"] @ Rs.[wpws url="http://www.amazon.in/gp/product/B00G9YT50W?creativeASIN=B00G9YT50W&linkCode=w01&linkId=YVKCXFZCAB2ONPQF&ref_=as_sl_pc_ss_til&tag=betegu-21" selector="#priceblock_saleprice"] @ |
| --- | --- |
| OS | Android OS, v4.2.1 (Jelly Bean) |
| CPU | 1.5GHz Cortex-A7 QUad Core |
| RAM | 2 GB RAM |
| SCREEN | 5.0 Inches |
| DISPLAY | 1080p IPS CGS (Continuous Grain Silicon) |
| SIM | Dual SIM |
| CAMERA | 13 MP Rear Camera With LED Flash, 5 MP Front Camera |
| MEMORY | Internal Storage 16 GB, microSD unexpandable |
| BATTERY | Li-Ion 2,000 mAh battery |
| OTHERS | 3G,Bluetooth, WiFi, GPS |