Jio reported to launch its DTH services with free Welcome Offer, set top box leaks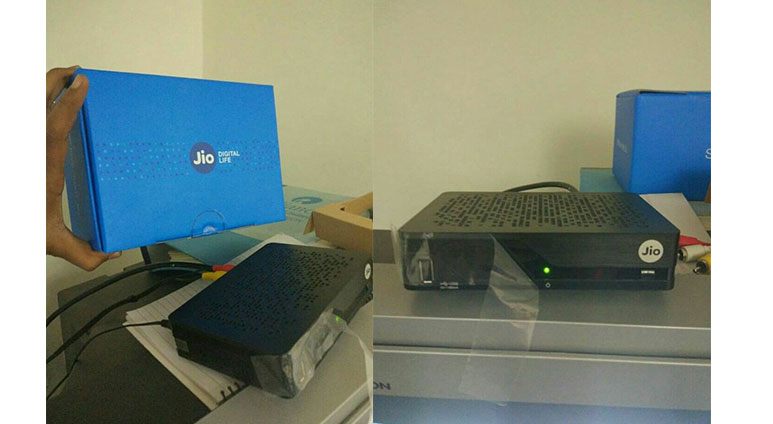 After disrupting the telecom sector by its free internet data and calls, Reliance Jio now is planning to capture the DTH (Direct To Home) Television market as well. Images of the Jio digital set-top-box have leaked online, which indicates that the launch is coming close. Although this is not the first time that talks about Jio DTH have come up. The rumours have been building since quite a while now, only this time the leaked pictures are much more detailed and reveal a lot more about Jio's plan.
The new leaked images show the Jio set-top-box in regular rectangle shape with various ports including standard cable connector, HDMI, USB and audio/video output. The device also has an Ethernet port, which will provide the users with broadband as well. As per the reports, the DTH service from Jio might also come with a welcome offer which will give 90 days of free service. As of now, Jio's DTH service is said to provide well above 360 different channels with minimum 50 HD channels out of them. The prices for the service will be starting from Rs. 180 as per the reports.
The Jio set-top-box is also reported to provide service through Android set-top-box or Apple Tv. Also, its broadband service will be using Fibre optic cable which will offer an Internet speed of up-to 1 Gbps. Just like Jio's telecom services, its DTH services are also assumed to be the cheapest and value for money. If sources are to be considered, the Jio DTH services can be launched this month itself.
Reliance Jio has been giving a tough competition to Bharti Airtel right from the first day. May it be the tariff plans or speed test claims, Jio has out done Airtel in every sense. Now, with Jio entering digital content services the war gets even tougher with Airtel's DTH service 'Airtel Digital' already in the market from couple of years.
All this aside, we are looking forward for the free TV services now 🙂 Cheers!