Jio Fibre Rumours Round Up: Free Offers, Speed, Tariff & Everything we know so far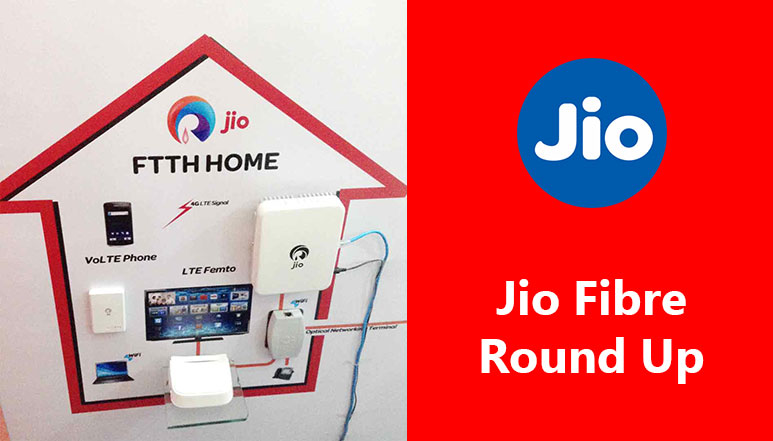 Reliance Jio, a name that entirely changed the game in the telecom sector by its free voice calls and internet service, is very close for yet another blast. Jio is still ruling the sector with its new exciting offers and data benefits at truly affordable prices. After setting its foot in telecom industry, Jio is keen to enter different sectors and create the same impact as it did with its cellular services.
With this intend, Reliance Jio is all set to roll out its Fibre-to-the-home (FTTH) service dubbed as Jio Fibre. Reliance Jio's broadband service has been in talks since a while now and was highly looked upon considering the fact that it is said to offer a lightning fast internet speed. It is expected that the service will be launched in June and will offer up to 1 mbps of internet speed at affordable prices similar to its cellular services.
Let's get into a bit more detail about the Jio Fiber and try to gaze what Jio has in store for us.
Progress:
Reliance Jio is all pumped up to launch its FTTH services next month and as per the reports the company has already started the trails in major cities of India. Jio has been laying down fibre optic cables in various cities all over India since long. In September last year, some details came up regarding the service being tested in several residential colonies of Chennai. There after the company also begun test for the service in Mumbai and Pune last year.
Jio Fibre Preview Offer:
Similar to its 4G services, Reliance Jio will also be offering its FTTH service for free for an initial period of 90 days. Under this launch offer, all the customers who have registered for the service will get 100 GB of data per month at a minimum speed of 100 Mbps. Although the users will be benefited with unlimited amount of data but after the 100 GB monthly limit the speed will reduce to 1 Mbps.
Monthly Tariff  and Installation Charges:
Jio Fibre plans, which will be available to the users will be known as FTTH Base Plan. The plans have not been made official yet but there are reports that indicate about various plans of Jio Broadband that range between Rs. 500 to Rs. 5500. Apart from this, there is also an one-time installation charge of Rs. 4,500 which is refundable and will be returned to the customers if they do not wish to continue after the preview period.
A website called JioCare, which is not the official Jio website, notes that plans are mainly divided in 3 main categories:
Jio Giga Fiber Speed-based plans.
Jio Giga Fiber Volume-based plans.
Jio Giga Fiber Special broadband plans.
Under the Speed based plans the benefits are basically capped with limited speed and data usage. There are several plans starting from Rs. 1500 and going up to Rs. 5500. The plans offer a speed of 50 Mbps/ 100 Mbps/ 200 Mbps/ 400 Mbps/ 600 Mbps available at a price of Rs. 1500/ Rs. 2000/ Rs. 3500/ Rs. 4000/ Rs. 5500 respectively.
The Volume based plans allows the customers to avail the services without any speed limit. The plans under this are based on daily usage which ranges between 5 GB to 60 GB daily. There is a limit to daily usage which is 5 GB/ 10 GB/ 20 GB/ 40 GB/ 60 GB per day at a cost of Rs. 1000/ Rs. 2000/ Rs. 3000/ Rs. 4000/ Rs.5000 respectively.
The Special broadband plans sum up all the affordable and budget plans. All the user who desire to use the Jio Fiber at low cost can go with the plans under this. The plans start from as low as Rs. 500 and go up to Rs. 800 with various speed limits and data restrictions depending upon the plan. Rs. 500 plan will offer 600 GB at a speed of 15 Mbps whereas Rs. 1000 plan will offer 500 GB at 25 Mbps speed. There are other plans also at Rs. 500 which offer different speed and amount of data. Finally there is Rs. 800 plan which provides unlimited data at an unspecified speed.
All the above plans come with a 30 days validity.
Speed and Service:
It is widely said that Jio Fibre will provide a speed of upto 1 Gbps, However during the preview it will offer a minimum speed of 100 Mbps. For now, not every city comes under the Jio Fibre network and the service will be launched in selective cities initially and will spread to other cities across India thereafter. As mentioned earlier, the service is under trial run in several big cities of India. Most of the trial is being done by the Reliance Jio employees, with availability of this trial plan being offered to others on the basis of availability of the service in a particular area. The cities where the trial is going on include, Mumbai, Delhi, Ahmadabad, Surat, Chennai, Jamnagar, Vadodara and Pune.