Jio brings out 'Dhan Dhana Dhan' offer at Rs. 309 for 3 months; disappointed Airtel says "old wine in a new bottle"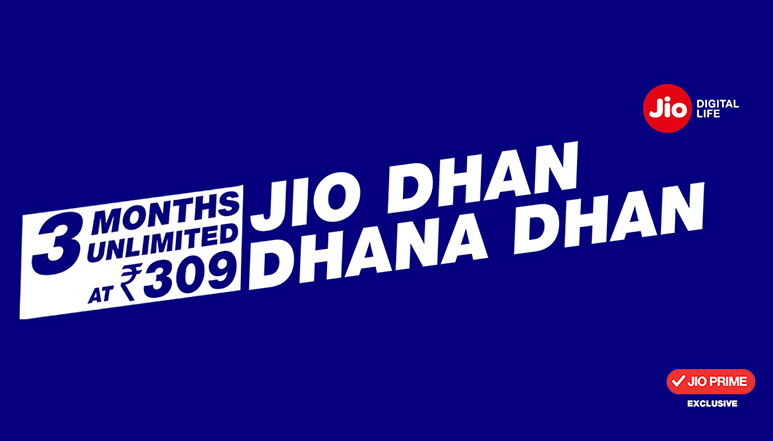 Reliance Jio has rolled out a new 'Dhan Dhana Dhan' offer for its Prime customers who couldn't entitle themselves for the 'Summer Surprise offer' before it was withdrawn. Under the new 'Dhan Dhana Dhan' offer, Jio Prime customers will get the benefits of 'Happy New Year' offer with 3 months validity on a recharge of Rs. 309 and above. This essentially means that the customers will get 1 GB per day 4G internet data along with free voice calls for 84 days (28 x 3) if they recharge with Rs. 309. Also, customers who desire 2 GB internet data per day will have to recharge with Rs. 509. The offer comes as a sigh of relief for the ones who were worried about having missed the chance to get the 'Summer Surprise' offer.
The customers who haven't subscribed to Prime membership yet can also avail the benefits of the new offer by paying Rs. 408 for 1 GB data per day data and Rs. 608 for 2 GB data per day. This will also make them a Prime member for next one year. The Jio 'Dhan Dhana Dhan' offer provides some what similar benefits as that of the Jio 'Summer Surprise' offer which gives 3 moths complimentary free services. So, the customers can still grab on to this new offer while they have the chance and will not have to recharge monthly for at least 3 months.
The Jio 'Dhan Dhana Dhan' offer is however facing heavy criticism from its biggest rival Bharti Airtel. According to Airtel, the industry is in a 'very weak' position and 'continues to bleed'. It has also added that the financial impact that telcos are seeing does no good to customers, in the long term. With a weakened financial position, companies will find it difficult to raise the capital to invest and roll out broadband networks.
An Airtel spokes person said:
"We are surprised to see what Jio is doing. It violates the spirit of the TRAI directive and essentially continues with a similar plan now masquerading under a different name. This is a classic example of old wine in a new bottle."
Back on Monday this week, Vodafone also approached TRAI complaining that in-spite of the offer being withdrawn, Jio is allowing last minute entries to its customers. However Jio nullified those complains saying that it had already made it clear that the offer will be withdrawn as soon as operationally feasible and all the customers enrolling before that will be eligible for the offer.
It will be interesting to see how other telecom companies tackle Jio now and what will be Reliance Jio's next move to retain its customers.
We'll keep you updated with every coming detail on this, stay tuned! Read all the stories on Jio at: #RelianceJio.