Google Motion Stills app now available for Android, lets you create stabilised looping GIFs easily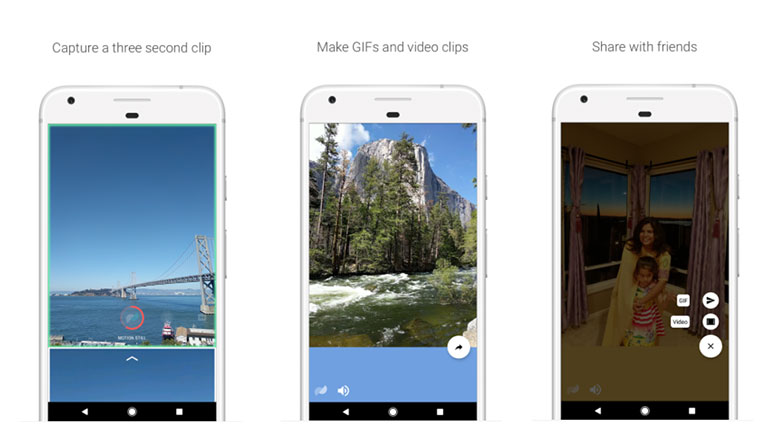 After being popular in the iOS, Google has made its Motion Stills app now available for Android as well. The app basically lets the user create smooth and blur free GIF's with the help of its video stabilization technology. The Motion Stills app makes use of the company's stabilisation and rendering technology which helps the users to capture short videos and turn them into looping shareable clips.
In order to use the app, you will simply have to tap the camera button which automatically captures a 3 second video and turn it into a GIF which can further be shared easily. Apart from this, the users will also be able to condense a longer recording into a short clip using the fast forward feature.
As per Google, in addition to stabilizing your recordings, Motion Stills on Android comes with an improved trimming algorithm that guards against pocket shots and accidental camera shakes. Google has redesigned their existing iOS video processing pipeline to use a streaming approach that processes each frame of a video as it is being recorded.
The new video processing pipeline allows Fast Forward to process up to a full minute of video, right on your phone. The users can even change the speed of playback (from 1x to 8x) after recording. To make this possible, the app encodes videos with a denser I-frame spacing to enable efficient seeking and playback.
The app as per the company, has also become fast in its processing. By computing intermediate motion metadata, the app is able to immediately stabilize the recording while still performing loop optimization over the full sequence. In order to display your Motion Stills stream immediately, the algorithm computes and stores the necessary stabilizing transformation as a low resolution texture map, which is then stabilized using the GPU in real-time during playback.
The Motion Stills app is already rolled out and is up for download from the Google Play store. The app is compatible for Android 5.1 and later devices.