Freedom 251: All the details, Controversies and Steps to Buy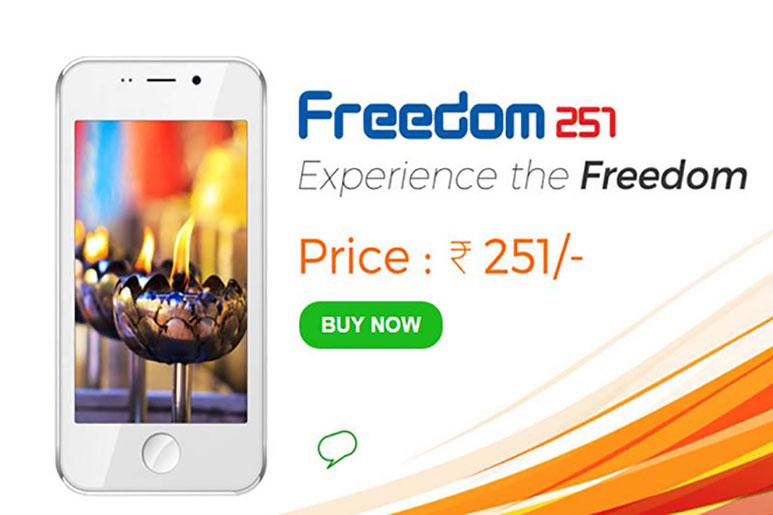 As promised, Ringing Bells has officially launched the world's cheapest smartphone, Freedom 251. The smartphone was launched by Defence Minister Manohar Parikar along with BJP MP Dr. Murli Manohar Joshi and some other ministers at an event in Delhi, India.
The Freedom 251 launched at Rs. 251 only raised a few eyebrows. The smartphone which is offering 4 inch touchscreen, 1 GB RAM, 8 GB internal memory and 1450 mAh battery with Android 5.1 Lollipop running on it, was a concern for the whole mobile industry and media, The Indian Cellular Association (ICA) has even sent a letter to Telecom Minister Ravi Shankar Prasad saying the phone cannot be priced below Rs. 3,500 even after a subsidy.
"For your kind information, the bill of material (BOM) value for a product like this when sourced from the cheapest supply chain cost approximately $40 (Rs 2,700). And this, when translated into retail price after addition of applicable duties, taxes and with distribution and retail margins would be at least Rs. 4,100 while the product is being sold at Rs. 251"

– Pankaj Mohindroo, ICA National President said in the letter.
So, how can a recently formed company like Ringing Bells offer a phone at such a low-cost? Explaining the raised concerns Ashok Chadha, President, Ringing Bells, said:
"The bill of materials [cost of the parts] for a phone like this is around Rs. 2,000 – by making in India we take away around Rs. 400 from that; by selling online we cut overheads and save another Rs. 400," He further added, "And as the numbers go up, we're not talking lakhs but much more, we save another Rs. 400 from economies of scale. And then, our platform becomes big, and attractive to others, so we can then highlight products that are worth buying for our customers, and this is another source of income. We will pass all of this on to the customers, we want to make only a small profit per unit."
He also confirms that the government is not involved in this ambitious project, however he said that the company is just inspired from Prime Minister Narendra Modi's "empowering India to the last person, transforming India's growth story" with the guidance of company's old friend MP Murli Manohar Joshi for Freedom 251 project.
On which Mr. Murli Manohar Joshi said:
"Unless India innovates and makes something new, it cannot progress, Because if technology is expensive then it's useless. You need technology for everyone, for fishermen and farmers and students. But technology that is cheap should also still be useable, cheap by itself is not enough."
Twitter users are also reacting in different manners, many users and reports have also claimed that the Freedom 251 is actually a rebranded Adcom phone.
#Freedom251 review: Phone didn't switch on, white paint used on front to hide Adcom's name https://t.co/bwUskKmWUL pic.twitter.com/XbVC3c688Q

— Livemint (@livemint) February 18, 2016
The company is aiming to make 100 percent of hardware in India, but currently the chipset will be imported from Taiwan and rest of the phone will be manufactured in India. The company is also looking at investing in two manufacturing plants – in Noida and Uttaranchal – immediately as a pilot project at an estimated cost of Rs. 500 crore, with a targeted capacity of 5 lakh units each per month, with a goal of having five manufacturing centers in total over time. As per the company, they are looking forward to sell over 1 crore units per month, but for now if the number of orders crosses 2.5 lakhs, the company will stop taking further orders.
No matter what company says about the smartphone, it does not matter unless the company has a BIS certification for the phone. The BIS (Bureau of Indian Standards) certification is required for every single phone to be sold in India, as it is then decided whether the phone is safe to use or not. Freedom 251 is currently lacking this, and to get this certification done is a tedious task, as it is time-consuming and expensive. So we can expect a slight delay to acquire this phone in our hand, if Ringing Bells manages to get this certification done.
Steps to buy, warranty and service centres:
Anyways, if you still want to buy this smartphone, just go to Freedom251.com. Then select the buy option on the screen and insert the number of quantity of smartphones you want. As of now company has not capped the quantity of phones to single user, but they do take Rs. 40 extra on every single smartphone as delivery charges. After filling the details and paying the amount, expect your smartphone to be delivered by June 2016. The company is also offering 1 year warranty and has 650 service centres  across all over India.
So what do you guys think of the Freedom 251? Are you guys going to buy it? Please tell us in our comment section below.