Facebook Messenger gets major visual update to simplify navigation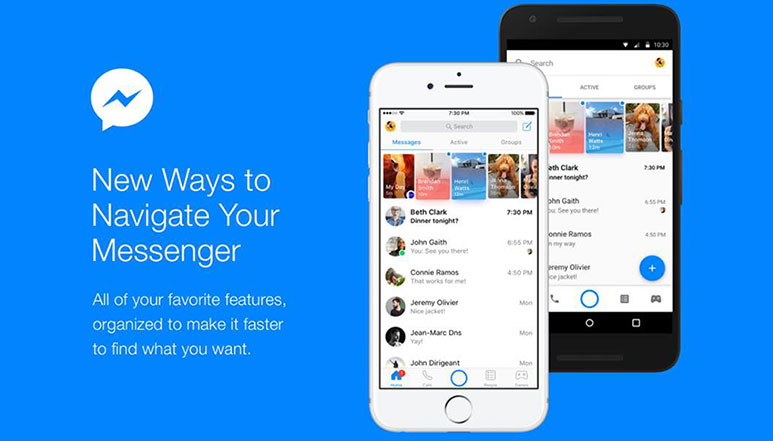 Facebook's messaging app has been updated with a refreshed and simpler look. Facebook Messenger will now sort your conversations into different tabs instead of displaying them in the form of a confusing list. The App at present looks a bit over crowded with a lot going on over a single screen space, especially after the inclusion of My Day feature.
With the new update, the Messenger home screen appears in three tabs now, i.e- Messages, Active and Groups. As the names suggest the Messages tab will list all the one-to-one conversions. The Active tab will display all the currently online users where as the Groups tab will list all the group conversations. Also on the bottom of the app you will find tabs for the homescreen and calls, positioned left from the camera shutter for Stories. Searching for people and playing games is on the opposite side.
Facebook in a post today announced the new update, debriefing about its features thereafter. The post read, "Today, we take this one step further by rolling out a visual update that simplifies navigation across Messenger," It further added that, "The new home screen still has all your favorite features but is now organized around making Messenger your hub for connecting with all the people and businesses you care about. Now, along the top of the inbox, you'll see tabs that help you navigate to your Messages, tell you who is Active so you know who you can quickly reach, and a place to find your favorite Group conversations"
Apart from the new look, Facebook also added a simple visual clue – a red dot. This will basically help the users to catch up with anything they missed. A red dot will appear on the tab to notify the user for any missed message or activity on the messenger.
As per Facebook, these changes are designed to make Messenger simpler for the user and to help them get to their contacts quickly, jump into conversations where they were left off, start new chats, and stay up to date. The new update will be rolling world wide on iOS and Android this week.
We'll keep you updated, stay tuned!