Facebook Live gets new 'Live Chat with Friends' and 'Live With' features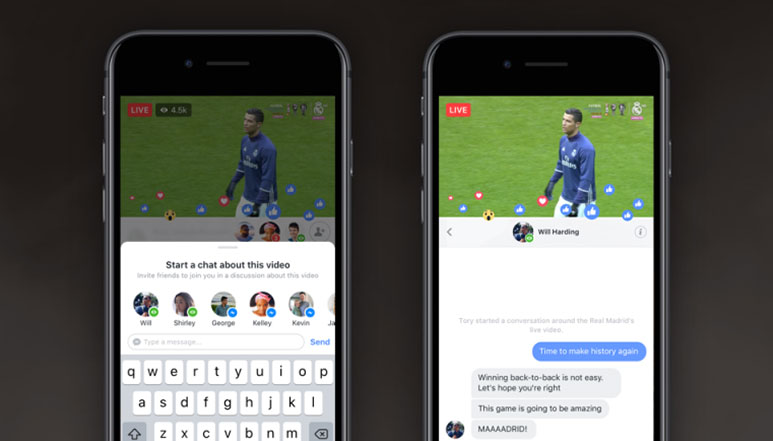 Facebook Live has got a couple of new features to make it easier for the users to 'share experiences and connect in real time with your friends on Live'. The social networking site has added two new features namely the Live Chat with Friends feature and the Live With feature. Both the features make it easier and more convenient to interact with friends during a live video. Let's go through both the features in detail one-by-one.
Live Chat with Friends:
Live Chat with Friends feature basically lets the users invite friends to a private chat about a public live broadcast. User can invite friends who are already watching or other friends who they think might be interested in watching the live stream. The feature also gives a provision to jump back into public conversions at any point when the users desire and can still continue chatting with the friends via messenger after the broadcast ends.
According to Facebook, "With Live Chat with Friends, you can be part of big moments with the wider community but also have the option to participate in personal conversations with the people closest to you, directly within the Live experience". The feature is currently being tested on mobile in several countries and will be rolled out later this summer.
Live With:

Live With feature lets the user invite a friend into their live video so you can hang out together, even if you're not in the same place. Sharing the screen during a live stream is a fun and interactive way to keep the viewers engrossed. Earlier this feature was only available for public figures but now has been rolled out for all Profiles and Pages on iOS.
To invite a friend to join in a live video, the users simply need to select a guest from the Live Viewers section, or tap a comment from the viewer they want to invite. The viewer can then choose whether or not to join the broadcast. Users can go live with a guest in both, portrait mode (for a picture-in-picture experience) or landscape mode (for a side-by-side experience).
Facebook in their newsroom post have also provided a link through which users can get a full tutorial on how to go about this new feature to reduce any confusion that arises.