Bigbasket signs a 60-day exclusivity agreement with Amazon for possible sale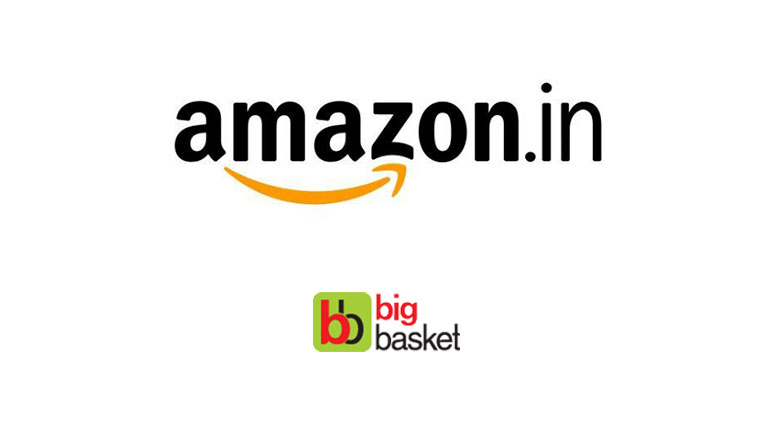 After being in talks for a while, the online grocery portal Bigbasket and Amazon have now entered into a 60-day exclusivity agreement during which the e-grocer cannot engage with another party for a potential sale. It was reported that the Global e-commerce site Amazon was eyeing to buy online grocery startup BigBasket in order to expand its hold in the Indian market.
According to a report of TOI, two people close to the matter told, that Bigbasket and Amazon have signed a 60-day exclusivity agreement. Signing the exclusivity clause will apparently mean that Amazon is the only strategic contender to buy BigBasket during the two-month period. The sources also mentioned that it does not stop the online grocery store from following financial investors to raise funds.
Even after analysing the potential investment, it is still not certain if Amazon will go ahead with the final deal, which is the main reason why BigBasket has been looking for fresh capital side-by-side, further said the report. The progress here makes sense as the two companies were in talks from quite some time and thereafter it was reported by Bloomberg that Amazon is on a hike to buy Bigbasket.
The report further states that, "if the transaction goes through it will entail a 100% sale of the five- year- old Bengaluru based company founded by Hari Menon, VS Sudhakar, Vipul Parekh, VS Ramesh and Abhinay Choudhari who had earlier started Fabmart.com which was sold off to the Aditya Birla group in 2003".
While responding to queries put in front by TOI, Menon said, "This is completely untrue. There aren't any discussions (with Amazon). On the fund raise, we will get back to you at the appropriate time." Menon said, "they had raised Rs 1,400 crore on sales during the financial year 2016-17. This puts us as the sixth largest grocery retailer (including physical grocers led by DMart)". An Amazon spokesperson on the other hand said that the company doesn't comment on speculation.