3 Best Smartwatches under 15000 Rs in India (2018)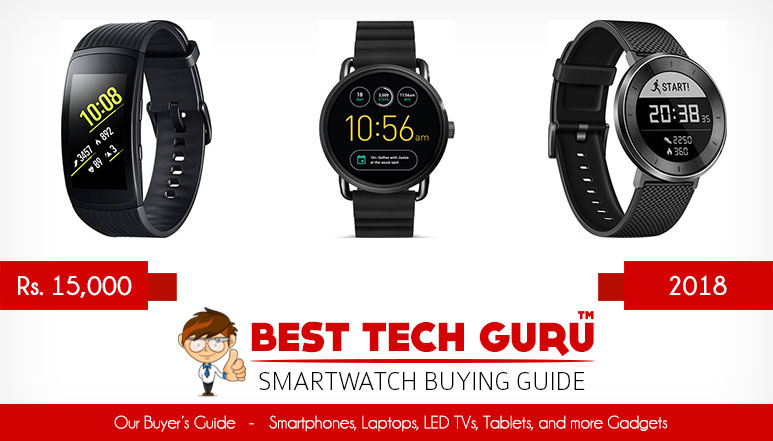 "A Man with One watch knows what time it is; A Man with two watches is never quite sure" – A famous quote said by Lee Segall. But looking at today's modern world with technology growing richer and richer every day, perhaps we can rephrase the quote by saying:
A man with one watch knows what time it is; a man with a Smartwatch knows it for sure.
A smartwatch comes in the wearable gadgets category and is a computing device worn on a user's wrist that offers functionality and capabilities similar to those of a smartphone. Smartwatches are designed to, either on their own or when paired with a smartphone, provide features like connecting to the internet, running apps, making calls, monitoring health and fitness, tracking activities, checking caller ID, accessing weather updates, offering location and directions, and much more.
Best Smartwatches under 15000 Rs.
A budget of under 15000 Rs. for a smartwatch is the least budget you should be having in your mind, if you are looking something real, feature rich and trustworthy. As the smartwatch will not only help you out with the time but will also provide lots of other features and benefits, it becomes more and more important to choose a smartwatch which fits your requirements and more importantly matches with your style statement. So, to help you in buying your new smartwatch, we have shortlisted the 3 best smartwatches under 15000 Rs. available in India, after putting a lot of research so that your buying process becomes quick and easy.
Here are the 3 Best Smartwatches under 15000 Rs. in India:
---
1. Fossil Q Wander Smartwatch – Rs. 13,996: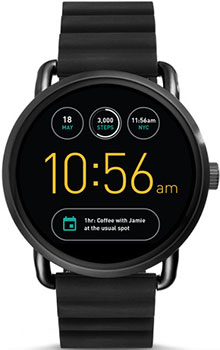 When watches still worked on mechanical parts, since then Fossil has been manufacturing trendy watches for every age-group. And now, when smartwatches have become the new trend, Fossil brings to you a smartwatch to take your breath away. The Fossil Q Wander Smartwatch is an exceptional watch crafted for providing utmost comfort and precision when it comes to keeping your time. The Fossil Q Wander Smartwatch which not only is a sleek looking watch, comes equipped with a plethora of features, to help you get your work done more efficiently on a daily basis. Fossil Q Wander Smartwatch is available in a range of colors and designs to go with the look you prefer. It also comes with various watch faces and customization options, so that you can try out a new look at your preference.
Talking about the specifications, the touchscreen Fossil Q Wander Smartwatch brings to you features like calling, active notifications, activity tracking like steps, distance, calories burned, and control over your music and the ability to check your messages on the go. It comes in a 45 mm dial with 320 x 290 pixels display. It can connect to the WiFi with which you can download compatible applications. It automatically syncs with your smartphone and allows you to keep a tab on your daily activities and notifications without ever pressing a button. So if you are thinking about investing in a good smartwatch then you can place your trust on the Fossil Q Wander Smartwatch, as it is the best smartwatch under 15000 Rs.
---
---
2. Samsung Gear Fit 2 Pro – Rs. 13,590: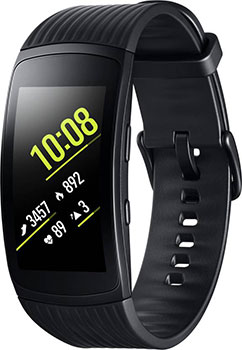 If you are the kind of person who likes to stay fit, work out on a regular basis and do so without being disturbed in order to achieve the maximum results, then the Samsung Gear Fit2 Pro is the smartwatch for you. Manufactured by Samsung, the Gear Fit2 Pro comes with assured quality and value for money. Connectable to any android device, the Samsung Gear Fit2 Pro keeps track of your health and activity in and out, on a daily basis. It thoroughly monitors your activities and provides you with options to set reminders, check messages and attend calls, without ever bothering to physically pick up the phone.
To call Samsung Gear Fit2 Pro a mere smartwatch might be underestimating its capabilities, it's not only a watch but also a fitness band or you can say it is primarily a fitness band which also has smartwatch features. It comes with a AMOLED display with 216 x 432 pixels resolution. You can wear it, while you work out and with help from various applications, you can maintain a detailed record of your work out sessions. It comes with a heart rate monitor, which you can customize to monitor your heart as per its required frequency.
No matter which activity you are indulging in the Samsung Gear Fit2 Pro can automatically detect your activities like Tennis, Basketball, Dancing or Running and keep you up to date about your health accordingly. It is water resistant up to 50m, it also comes with track location with Built-in GPS to determine the place of workout, and plays music without your smartphone. The Gear Fit2 Pro also comes with wireless charging and Bluetooth. The Gear Fit2 Pro is the best smartwatch under 15000 Rs. if you are more into health, fitness and workouts.
---
---
3. Huawei Fit Smartwatch – Rs. 9,999: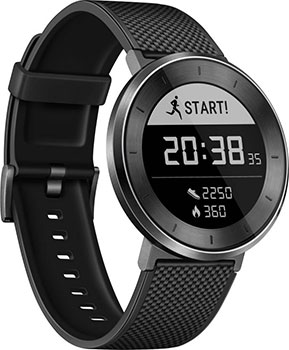 Huawei is known for manufacturing amazing smartphones, and adjacent to that, they have also made a strong presence in the smartwatch segment. When you look at the Huawei Fit Smartwatch, the device looks very simple and not so hi-tech for a smartwatch but since looks can be deceiving, it's better if you knew about what the device has to offer. The touchscreen smartwatch can be used for calls, receiving notifications, for a range of outdoor activities and for all of your fitness related activities. The device which is built out of Aluminium alloy is suitable for both men and women.
This small looking device comes with a 1.2 inches AMOLED display with a resolution of 390 x 390 pixels. It packs within itself Heart Rate Monitor, Accelerometer, Gyroscope, Compass, PPG, Barometer, ALS, and Cap Sensors. It also comes with Bluetooth and GPS support. It comes with 1 GB of RAM and for data storage, it has been provided with an internal memory of 4 GB, so whether it's storing your messages or storing your music for your work out sessions, the Huawei Fit Smartwatch takes care of it all. And if you are looking for a good smartwatch at a little low budget, then this smartwatch, available under Rs. 10,000, can be a very good choice.
---
---
So, here is the quick summary of the 3 best smartwatches under 15000 Rs:
Best Smartwatch under 15000
| Rank | Phone | Price |
| --- | --- | --- |
| 1 | Fossil Q Wander Smartwatch | Rs. 13,996 |
| 2 | Samsung Gear Fit 2 Pro | Rs. 13,590 |
| 3 | Huawei Fit Smartwatch | Rs. 9,999 |
Please like and share this list of 3 Best smartwatches under 15000 Rs. with your friends and help them in choosing their next smartwatch and like always, feel free to ask your questions.
Might be helpful: