5 Best Portable Speakers under 2000 Rs in India (2017)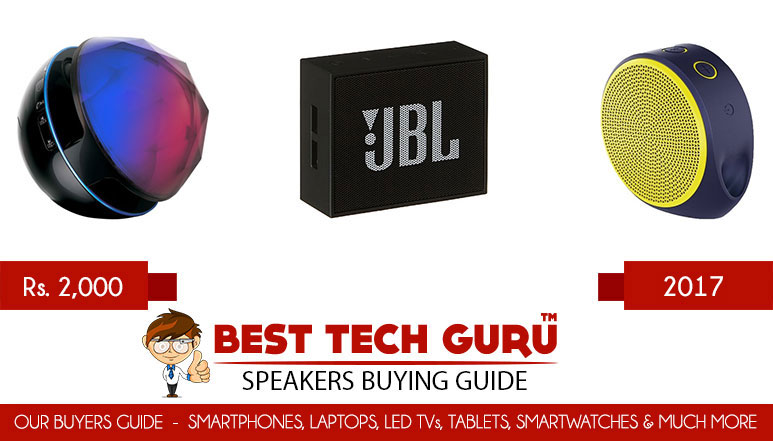 Everyone loves to stay in touch with music, whether on a tour, campaigning with family or a weekend get together with friends at some rendezvous. At such times a loud music can surely put your feet to move but, you can't carry your home theatre or computer woofers to such places where power source might not be present. For such situations boom-box or portable speakers were invented.
Portable speakers are speakers which once fully charged are ready to serve you sound via Bluetooth devices, FM, audio jack or even microSD cards & pen drives. So we have sorted some of the most recognised and powerful portable speakers for you.
List of Best Portable Speakers under 2000 Rs:
1. JBL GO portable Bluetooth speaker: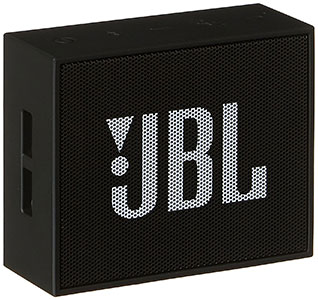 The JBL GO portable Bluetooth speaker has made it to the top of the list owing to its brand name as well as its great sound quality. The single unit channel speaker features volume controls and bass controls on it. The JBL GO has a rechargeable built-in 600 mAh lithium-ion battery which requires 2 hours of recharge time and once fully charged can give you up to 5 hours of non stop music play. It provides the sound output power (RMS) of 1 x 3 Watts. It also has a 3.5mm auxiliary input to connect any device with headphone output, and also the Bluetooth connectivity to provide high-quality wireless music streaming from devices like your smartphones. This mobile/tablet speaker is compatible with both iOS and Android. The built-in speakerphone also has echo and noise cancellation technology which allows you to take calls conveniently. The ultra light speaker measures at 3.1 x 8.3 x 6.8cm and weighs only 132g. It comes in Black, Red, Blue, Gray, Orange, Pink and Yellow colors. The JBL GO portable Bluetooth speaker starts at a price of Rs. 2099.
---
---
2. Zebronics BT-035 Spaceship speaker: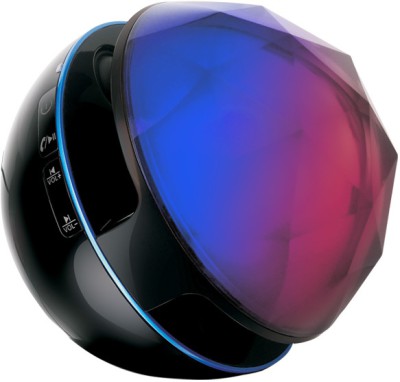 Zebronics BT-035 spaceship speaker which was launched in June this year, is certainly the most beautiful product in this category. The Black colour speaker which features rainbow disco lights is sleek and has unique crystal texture with firm rubber grip. It comes with an inbuilt microphone, volume control, hands-free, media control button, and rainbow light ON/OFF switch. The portable speaker packs 1050 mAh battery which takes 3 hours of charging time via DC 5V and gives up to 3 hours back up at max volume. The FM tuner speaker has sound output power (RMS) of 5Wx2 and supports Bluetooth version 4.0, which has the range of up to 10 meters. The Zebronics BT-035 Spaceship speaker supports microSD card (up to 32GB) and measures 150 x 154 x 141mm and weighs 690g. It is available for Rs. 1,200.
---
---
3. Portronics Sublime II POR 137 speaker:

The Portronics Sublime 2 POR 137 portable speaker is a product of high injection-moulded plastic with a sturdy silicon rubber cover and metallic grill. Sublime packs a 2000 mAh rechargeable removable lithium battery which provides up to 8 hours of sound support. It gives impedance of 3 ohms and power output (RMS) of 9 W. The boom-box has many connectivity options such as aux in, earphones (3.5mm jack), Bluetooth (HSP, HFP, A2DP) and microSD card support up to 32GB. It offers a crystal clear sound and frequency response of 200hz. The portable speaker measures at 6.6 x 7.4 x 7.4 cm and weighs 898g. The Portronics Sublime 2 POR 137 comes at a price of around Rs. 2,099.
---
---
4. Logitech X100 speaker: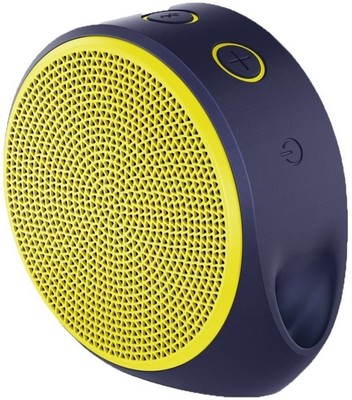 Logitech X100 speaker comes with some bold colors, its chassis is made up of durable plastic. The portable speaker has built-in rechargeable lithium-ion battery which gives 5 hours of playback time. It has impedance of 6 ohms and offers frequency response of 20Hz- 20000Hz. The Logitech X100 supports 3.5mm audio jack and Bluetooth connectivity. You can also attend phone calls from mobile phones that support Bluetooth-Hands-Free Profile (HFP1.6). It generates the output of 10W. The Logitech X100 measures at 9.7 x 8.5 x 3.7 cm and weighs 163g. It comes at a price of around Rs. 1,578.
---
---
5. Zoook Rocker 2 Bluetooth speaker: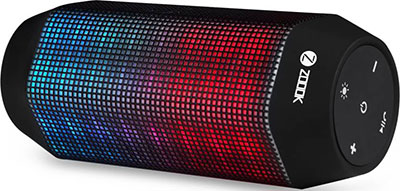 With Zoook Rocker 2 Bluetooth speaker, experience a great combination of audio-visual treat as it comes with bright, glowing LED lights which are bound to change your mood and atmosphere. You can select from the 6 available light patterns of this speaker and can also play without LED lights. The Zoook speaker has a powerful, rechargeable lithium-ion battery of 4400 mAh to offer uninterrupted and longer hours of playback time of up to 10 hours constantly. Further, if the LED lights are turned off, then the battery performance of the speaker increases. The charging time for this device is 4-7 hours, which is a bit more. The speaker produces HD quality sound as it comes with a dual neodymium magnet along with a large diaphragm, which delivers clear highs and mids with strong bass effect. Connectivity options include Bluetooth, TF card, USB, AUX or micro USB for easy media sharing and playback. The Bluetooth range is up to 10m and the Bluetooth version is 2.1+EDR. Additionally, you can use the speaker as a hands-free speaker phone to attend any incoming call. The speaker has been designed with attractive, battery level indicators which shows 4 levels, such as – 25%, 50%, 75%, and 100%, so that you can charge the device accordingly and enjoy uninterrupted music. It is available for around Rs. 2,000.
---
---
Please like and share this list of 5 Best Portable Speakers under 2000 Rs. with your friends and help them in choosing their next portable speaker and like always, feel free to ask your questions. A prompt reply awaits you.