Best low-budget VR Headsets in India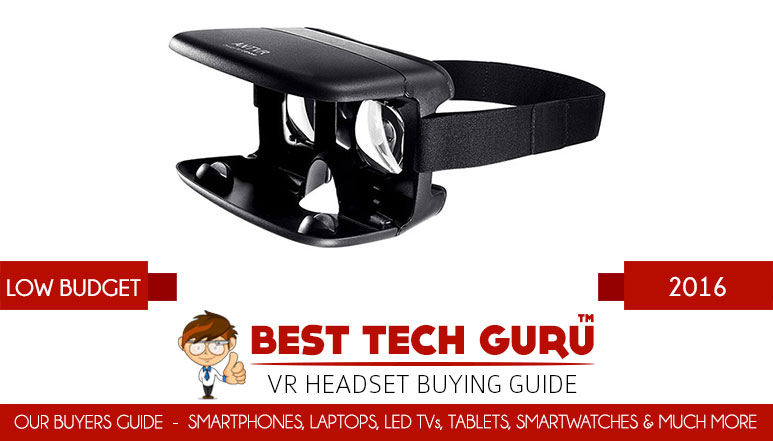 We all know after the touchscreen phone era, a new dawn is coming, which would be of the Virtual Reality (VR). The Virtual Reality is an artificial environment that is created with software and presented to the user in such a way that the user suspends belief and accepts it as a real environment.
The VR technology has been buzzing around the industry from quite a few years, and the big players like Oculus Rift, Samsung Gear VR and HTC Vive have indicated that the VR headsets may come with a hefty price tag. However, since the launch of Google's Cardboard most of the other electronics manufacturer have started launching their own brand of Virtual Reality headset at a competitive price.
So, without any further ado, let's get on to this list, we have shortlisted the 3 Best low-budget (under 1500 Rs.) VR Headsets in India.
1. Zebronics ZEB VR: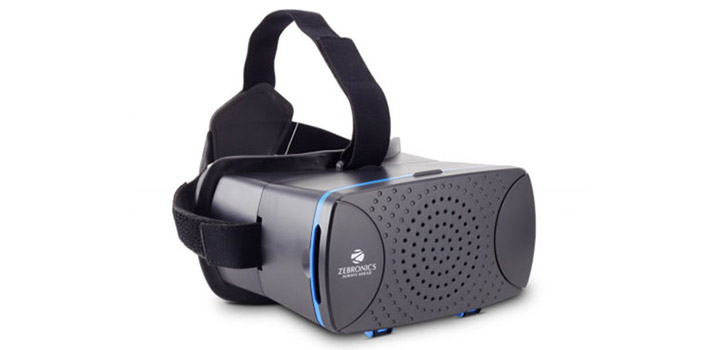 The ZEB-VR  headset was launched few months ago at Rs. 1,600 in India, however it is now priced at Rs. 1,247 and is exclusively available on Snapdeal. The headset has thick memory foam padding for extra comfort, and has enough size for wearing the glasses comfortably for long time. It comes with magnet toggle switch, that has a metal neodymium ring and a ceramic disc which lets you interact with the mobile phone VR application.
Any phone with screen size from 4.5-inch to 6-inch will fit into this, and you are assured of a decent build quality (for the price!) with the ZEB VR. It measures 190 x 160 x 105 mm and weighs 103 g. The Zebronics Zeb-VR headset comes in black colour with blue rims.
---

---
2. Ant VR: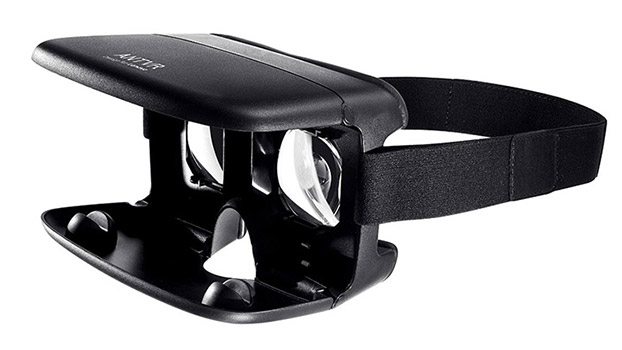 The Ant VR was launched alongside the Lenovo K4 Note earlier this year, and used to come bundled with the smartphone at the mere price tag of Rs. 500. Although, later it was launched independently for Rs. 1,299.
The Ant VR headset comes with a good build quality. It supports phone sizes starting from 4.5 inches to 6 inches, and the lenses gives a 100 degree field of view making it one of the best VR experiences in the market. It can also be used with reading glasses on and weighs almost 160 g. However, the lack of motion tracking sensors will never let you feel the real/complete experience of VR, which is a big concern if you are buying a VR headset. Also, as it is not completely packed from sides, there is space for the ambient light to enter, that may spoil the VR experience. It is a good VR headset but comes with its own limitations but, if you are okay with it, it can be a good choice.
---
---
3. GetCardboard VR Headset (inspired by Google Cardboard):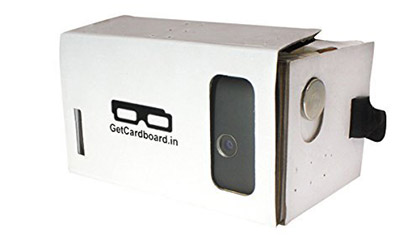 Inspired from the Google cardboard, the VR headset from GetCarboard is one of the cheapest VR headset in India that can give you the near to complete VR experience. Priced at Rs. 190 on Amazon.in, the headset is made from laminated corrugated cardboard sheet and comes with nose cushion, magnetic trigger and adjustable head strap.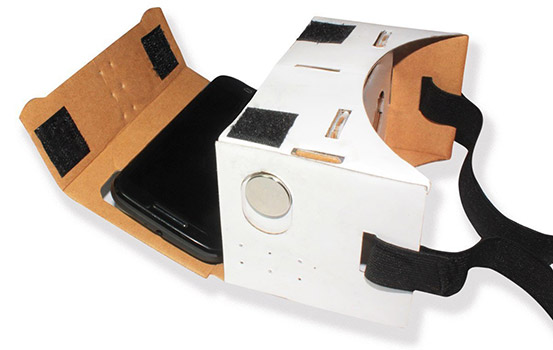 The VR headset is compatible with Android 4.1 and above or iOS 5 and above. However, for utilizing complete functionality of VR headset, the phone must have sensors like Gyro sensor, compass, magnetometer and proximity sensor. The GetCardboard VR Headset can fit upto 5.5 inches of smartphone and is best priced on Amazon. If you haven't experienced Virtual Reality till now, the cardboard VR headset can be a good choice but get it clear, it is made of just 'cardboard' and won't last long, it is also very uncomfortable.
There are many other Google Cardboard inspired VR Headsets available on Amazon.in, some come pre-built, some come with added cushioning, you can buy any of them, the basic functionality of all of them is almost similar.
---
---
Some other decent options to consider:

There are some other VR headsets like SDO VR, JT VR box, DMG Vr 9XX, Domo nHance VRF2, etc. which are in range of Rs. 600 – Rs. 1,000, some of them are inspired by the Google Cardboard but they come with a decent plastic body rather than the cardboard. However, even if these headsets look promising we can't speak about their reliability as they come from unknown or lesser known brands. Still, you can play your luck to buy any one of them, they can prove to be a good choice.
---
Hope this article helped you. Please like and share it with your friends. You can check our Buyer's Guide for help in buying many other interesting Gadgets.