Best Gamepad for Android in India (2016); Are Gamepads worth buying?
Smartphones have made our life much easier than before, almost every task we have ever imagined can be accomplished with its help. Even gaming on smartphones have become simple, efficient and popular. And the way gaming industry is focusing towards the smartphone is simply astonishing. But, no hardcore gamer can deny this fact that they do miss mashing their fingers on button controllers and smartphone games being controlled on delicate glass can not be pressed too hard, which indeed lacked the feeling of real gaming experience. Well, thanks to some hardware companies who were thinking the same, and thus Gamepads were evolved.
Gamepads are wireless Bluetooth controller, which is if compatible with our smartphone OS, can be used for gaming without further damaging the glass of our smartphone screen. Most of the gamepads feature almost all the control buttons you will find on a normal PlayStation or Xbox. Some gamepads also have clamps or vacant spaces to fit in your smartphone in between. So, let's look into the best game controller for android.
Best Gamepad for Android in India: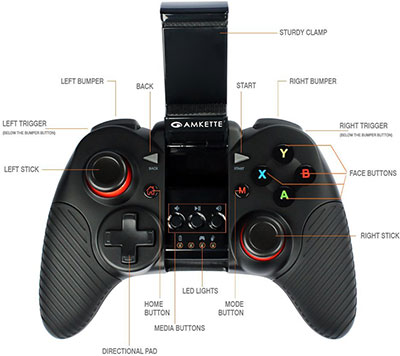 In India, the concept of Gamepad is not much popular, and maybe that's why there aren't many good devices. But Amkette's Evo Gamepad is definitely the standout controller available in the country. Amkette launched its first gamepad last year known as Amkette Evo Gamepad Pro, but recently the company has launched the second generation of the gamepad.
Amkette Evo Gamepad Pro 2 for Android launched in early February was an instant hit among the gamers. The device comes with an improved clamp spring for easy, safe and convenient docking of your smartphone and can fit up to 6-inches of smartphones without any hassles. It also features trigger, bumper buttons, and multimedia keys for volume control for uninterrupted gaming. It also has new sleep mode that turns off the controller after 8 minutes when it is not in use for preventing the draining of the battery. The gamepad is compatible with over 400 games available on Google Play store and the company's App provides list off all the games arranged in categories.
The Amkette Evo Gamepad Pro 2 is offered in black color only and comes with tablet stand, micro-USB charging cable, and supports Bluetooth 3.0. It is exclusively available on Amazon.in for price of Rs. 2,599 and if you are a gamer, the experience it provides is truly worth the price.
Hope you liked this article and if you do, please share it with your friends. Also, checkout our lists for many other gadgets at our Buyer's Guide.