3 Best 1TB External Hard Disks under 5000 Rs in India (2017)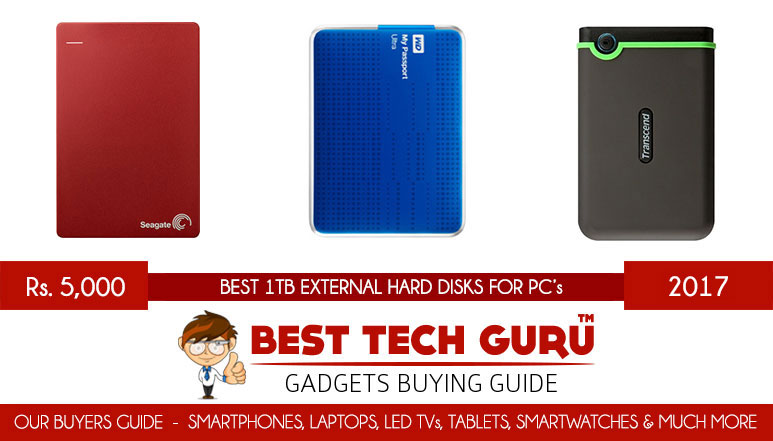 To store our data we always need the free space in our Hard Disk, whether it is for Blue-Ray Movies, High Quality Photos, or vast number of files. Even if we don't want to store any more data after a limit, it is always a safe thing to have a backup of it. Some years ago we used to take back up of our prestigious data in writable CD-DVD, but those days are gone now.
Today with the increasing size of files it is not possible to write it any CD-DVD every time as it is time-consuming too. Also, many of your old pc's might be offering you less than 500 GB of storage which is a nightmare these days. So to overcome these problems, there is only one solution: External Hard Disks.
Portable Hard Disk or External Hard Disk Drive (HDD) is nothing but a storage device that can be connected to your PC, Laptop via the USB port. External HDD allows you to read/write data from any PC or Laptop as it is not a machine dependent device. And looking at the recent times where data loss is regular day thing and as everyone wants to keep their data as long as possible, Portable HDD is a must have device.
List of Best 1TB External Hard Disks under 5000 Rs:
1. Seagate Backup Plus Slim 1TB HDD: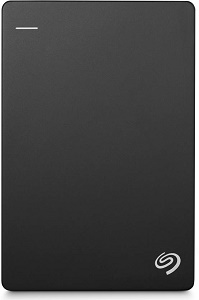 The Seagate Backup Plus Slim 1TB HDD is the most popular and slimmest portable drive with plug and play connectivity. It has a 12.1mm thin body which makes it extremely convenient to carry in your laptop bag, backpack or even in your pocket. It has USB 3.0 and USB 2.0 interface for easy plug and play connectivity. It provides 1TB of storage out of which 931GB is usable memory. It supports almost every OS whether it's of Windows or Mac. It has some additional features like it can protect your data with easy flexible backups. On this 1TB HDD, you can also backup media content shared on Facebook, Flicker, and YouTube using the downloadable Seagate Dashboard software. Simply, run a one-click backup or schedule an automatic backup plan to safely store your files. This portable drive also offers up to 200GB of free OneDrive storage for 2 years if the hard disk is registered by June 30, 2017. With this hard drive, you can also automatically backup photos and videos from your mobile phone via the Lyve app. You can quickly access your stored data in a single and organized library with the Lyve mobile and desktop app. The data can be transferred at a rate of up to 120 MB/s on this 1TB Seagate HDD. The slim and comfortable HDD measures 76 x 12.1 x 113.5mm and weighs only 141 g. It comes with 3 years of warranty. Seagate Backup Plus Slim 2TB HDD is available in Red, Blue, Silver, Black and White colors.
---
---
2. WD My Passport Ultra 1TB HDD: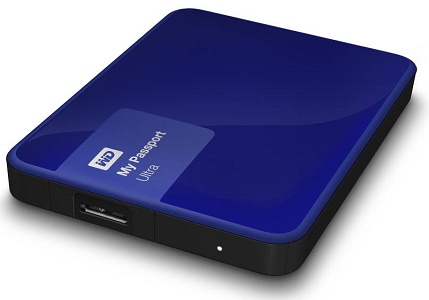 The Western Digital (WD) My passport ultra is famous for its looks and security. The 1TB WD My passport ultra supports both USB 3.0 and USB 2.0 connectivity option. At USB 3.0 it can transfer data up to 5 Gbps. The device comes with the WD SmartWare Pro automatic backup software that helps protect your data and keep it all safe by creating instant backups. Also with the WD Security you can password protect your data and also add hardware encryption for your drive to help keep your data private. You can also backup your data on Cloud. It supports both Windows and Mac OS. The ultra- sleek and stylish Portable device measures 81.6 x 15.84 x 110mm and measures 160g only. The WD My Passport Ultra 1TB HDD is available in Black, Blue, Berry and White colors. It comes with 3 years of warranty from WD.
---
---
3. Transcend StoreJet 25M3 1TB HDD: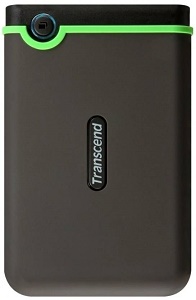 The Transcend Store Jet 25M3 is a 1TB HDD featured with military grade shock resistance i.e. it's a shock proof hard disk. It has a compact and portable design, that makes it an ideal travel companion. The slip-resistant and sturdy outer shell of the hard drive ensures utmost durability. It supports both Windows OS and Mac OS. It has RPM of 5400 and can transfer data via USB 3.0 up to 5 GB/s and via USB 2.0 up to 480 MB/s. The Transcend external hard disks come with Transcend Elite backup and security software that allows you to manage your files with ease. You can use this software to create incremental backups or compress files with 256-bit AES Encryption. The exceptionally convenient one touch auto-backup button of this 1TB Transcend hard disk allows you to instantly backup all your data. It measures 129.5 x 82.4 x 20.4 mm and weighs 216 g. The Transcend Store Jet 25M3 1TB HDD comes with 3 years of warranty.
---
---
Please like and share this list of 3 Best 1TB External Hard Disks under 5000 Rs. with your friends and help them in choosing the best 1TB Hard Disk and like always, feel free to ask your questions. A prompt reply awaits you.