Asus ZenFone AR to launch on 14th June in Taiwan, press invite confirms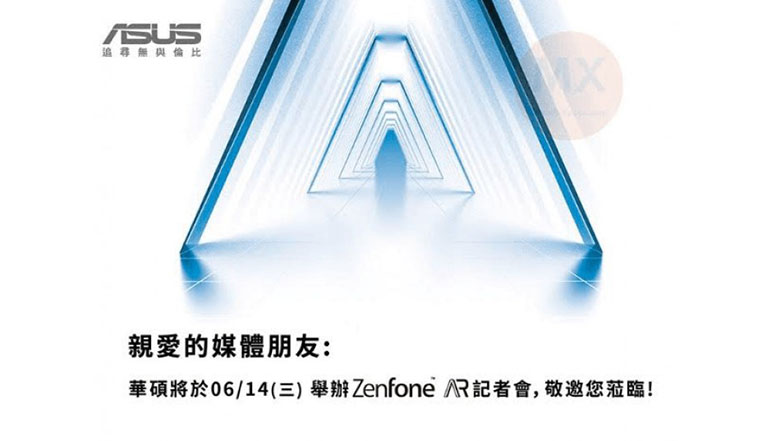 Asus is all set to launch its Tango-powered Zenfone AR smartphone on 14th June in Taiwan. The smartphone was first sighted back in January at CES in Vegas. Since then the smartphone is still in company's bag and hasn't been out yet. Late last month, it was reported that the Asus handset would launch in Taiwan in mid-June and the United States launch is to follow shortly thereafter. Falling inline with the report, Asus has started sending press invites for the the launch event of Asus Zenfone AR scheduled on June 14.
The smartphone as per the reports, will be announced in two different variants, one with 8 GB of RAM and the other with 6 GB. It is highly expected that the variant hitting the shelves in US will have 6 GB of RAM. The reason why Asus Zenfone AR has witnessed delay in launch is apparently because Tango apps did not make a splash with the Lenovo Phab 2 Pro. It was also mentioned that many more Tango apps now run smoothly on the Zenfone AR.
Coming down to the specifications, the Zenfone AR is powered by a Snapdragon 821 processor coupled with Tango's tri-camera setup which can detect its position in three dimensional space and use apps designed for it. There's a 5.7-inch Quad-HD display which enables the phone to be compatible with Google's Daydream VR platform. To keep things running the smartphone houses a 3,300 mAh battery.
As mentioned earlier, the smartphone will be launching in Taiwan only, where as it is expected to make an arrival in US later this month with Verizon expected to carry the device in early July. It is also expected that the Zenfone AR could hit the shelves in India around August.