Apple's upcoming iPhone 7s could be thicker than its predecessor, to come with glass back: Report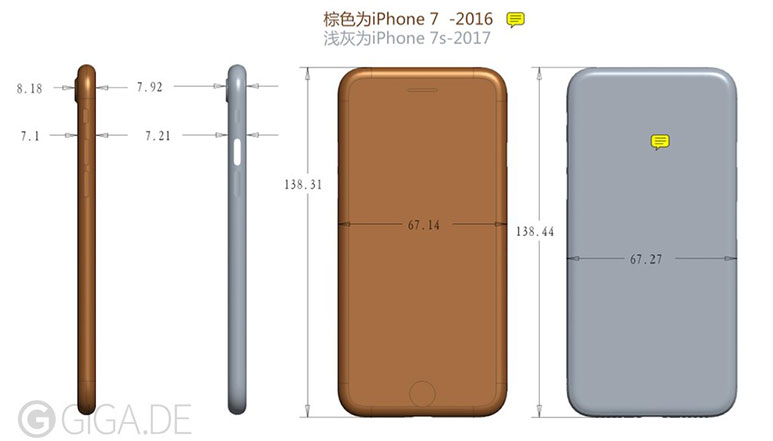 Apple is expected to unveil three new devices this fall, and while the limelight is over the much rumoured iPhone 8, the iPhone 7s and 7s Plus also seem to be in the running. While there were rumours that the the smartphones will come with some minor upgrades and will hold same design as its predecessors i.e the iPhone 7 and 7 Plus, a new report now indicates that it might not be entirely true.
As per recent reports surfacing online, the iPhone 7s will apparently come with a glass back unlike the aluminium one that its predecessor held. The inclusion of Glass back makes 7s slightly thicker than the iPhone 7. The Glass back will certainly make the smartphone capable of wireless charging which is the rumoured fact for iPhone 8 as well, and will be one of the major upgrades.
Interestingly, when it comes to thickness, including the camera bulge, the tables get turned as the iPhone 7 is thicker than the iPhone 7s from where the camera hump is. Not just the thickness but the report also shows that the 7s will bigger than the iPhone 7 through out. As per the leaked schematic in the report, the iPhone 7 measures 138.31 x 67.14 x 7.1 mm, where as the iPhone 7s will measure 138.44 x 67.27 x 7.21 mm which is literally negligible and won't make much of difference unless you chose to use the same case for the 7s as that of 7.
Coming towards the camera bulge, the iPhone 7 is 8.18 mm thick where the camera hump is, but the iPhone 7s will only go to 7.92 mm making it thinner. As mentioned earlier, inspite of launching the successors of iPhone 7 and 7s, the highlight of the iPhone lineup this year will still be the special anniversary edition iPhone 8. The smartphone is expected to sport a big 5.8-inch screen which will be bezel-less from all the sides. There is also the vertically aligned dual rear camera and the in-display fingerprint scanner amongst the rumoured highlights.