Apple iPhone 8 design reportedly confirmed, holds a bezel-less display and a vertically aligned dual rear camera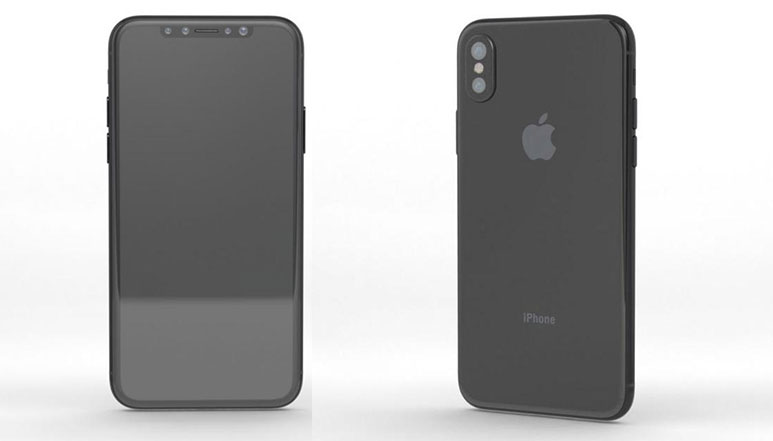 Apple's highly anticipated iPhone 8 is by far the most talked device of this year. A lot has been speculated regarding its design and features from quite some time. Sidelining all the rumours and speculations we might now have a confirmed design of the upcoming iPhone 8.
As reported by the Forbes, working with the case designer Nodus, Gordan Kelly from Forbes was able to obtain CAD files for the iPhone 8 through its supply chain. The CAD files were further rendered to foresee the final design of smartphone which indicates that this will indeed be the best looking iPhone from Apple.
On the front, the iPhone 8 appears to be almost bezel-less from all the sides with a big 5.8-inch screen. The display will feature a cutout at the top for the front facing camera and sensors which could also mean that the notifications will shift to a new function area in iOS 11. The speculation of the in-display fingerprint scanner also seems to be true as no home button is sighted on the front, however it is still uncertain as nothing can be said just from the CAD files.
The vertically aligned rear camera setup is same with an LED flash between the lenses as we have seen in various leaks prior to this. It is assumed that Apple has changed the alignment of the dual rear camera because the company is planning to step into Augmented Reality where horizontally aligned cameras are more effective and the phone is expected to be held in a landscape orientation.
The report further mentions that the smartphone won't be coming with the Type-C USB port and will retain the same lightning port. Similarly, Apple also won't be bringing back the 3.5 mm headphone jack. The highlight and the talking point never seen before, is the power button which has doubled in size than that of previous iPhones. The power button as per the report, could embed a touch ID sensor similar to what we see in Sony smartphones as the in-display fingerprint sensor is still in doubt.
Although the design isn't official but, Forbes along with Nodus believe it to be pretty much the final design. Some other facts such as processor, camera specifications and battery still remain a secret until the iPhone 8 is launched, which is rumoured to be delayed.
We'll keep you updated with more, stay tuned!